The Pompano Beach fiberglass pool is quickly scaling the ranks to become a top contender! This brilliantly designed fiberglass shell is both small and petite. It's able to fit almost any sized backyard and looks beautiful in all ranges of landscape. This image shows the Pompano Beach shell situated in a natural & scenic landscape – now that's what we like to call an Oasis!
Small and Petite Size
In the fiberglass world, size does not matter. Our fiberglass shells are all manufactured to be the toughest in the industry. Produced by the premier designer of fiberglass shells, our manufacturer was the very first to ever build a fiberglass pool in the United States! San Juan Pools has since redefined the industry and provides exceptionally built fiberglass shells to every customer.
You can notate our fiberglass shells based upon their unique shapes and presence everywhere! Zeroing in on the Pompano Beach fiberglass shell, this swimming pool is perfect for minimizing chemistry cost. Chemical maintenance is one aspect of a pool that many people forget about when shopping for one. Yes, when it comes to pool chemistry, many times bigger is not better!
Keep in mind, the larger the body of water that you have to keep chemically balanced, the more chemicals it is going to require. In the instance of the Pompano Beach pool, we are only discussing a total water volume of 9,500 gallons. That's about half to one quarter the size of some of these mammoth gunite pools you see around Dallas Fort Worth. Although that home owner bolsters about their swimming pool and it's "grandeur" you should ask them for their Leslie's chemical receipt.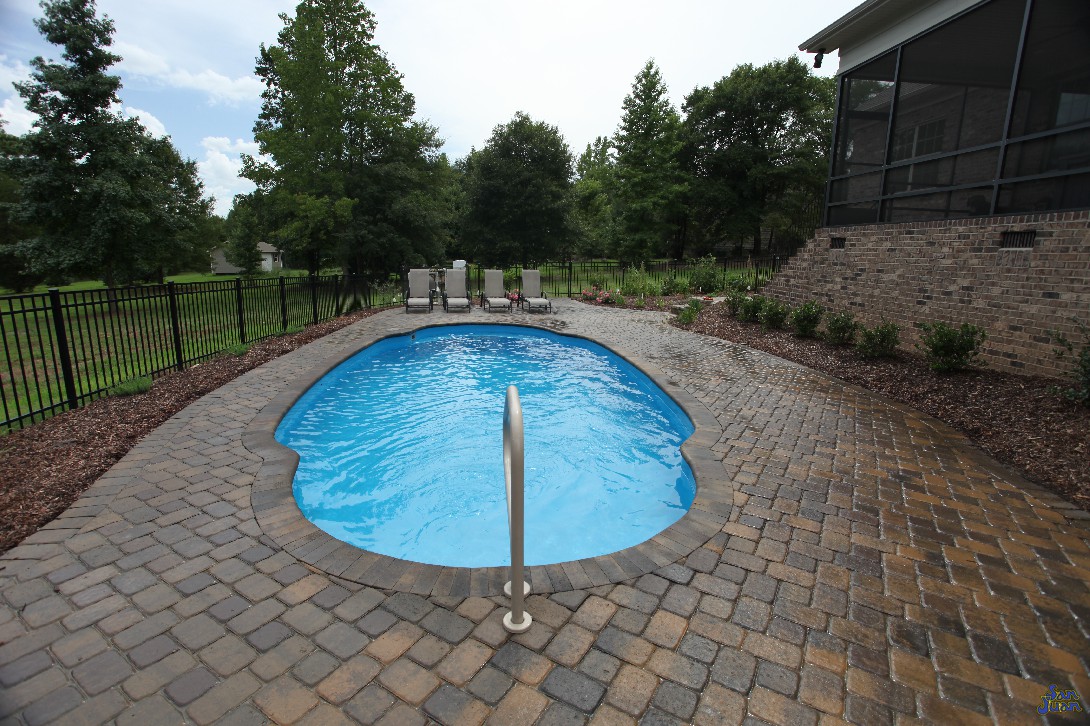 Perfect for a Small Backyard
A strong trend that we are noticing in the Dallas Fort Worth metroplex lately is the desire for smaller swimming pools. Many of our customers live in Urban environments or even Suburban living with small properly lot lines. In these instances, we are automatically going to be reduced down to a small swimming pool.
When shopping with Fiberglass Pool Guyz, that's perfectly okay! We are outfitted with swimming pool shells, both large and small. In fact, we have over 100+ fiberglass pool & spa shells to choose from. It's part of our mission to provide you with an exceptional range of choices when selecting the right pool for your home!
Now, back to our lecture – with a small backyard, you are blessed with many benefits that you may have never noticed. For starters, if you'd like to minimize your weekly maintenance of your yard, why not just cover your grass with a beautiful concrete deck. We have lots of options to create a unique outdoor living space, such as: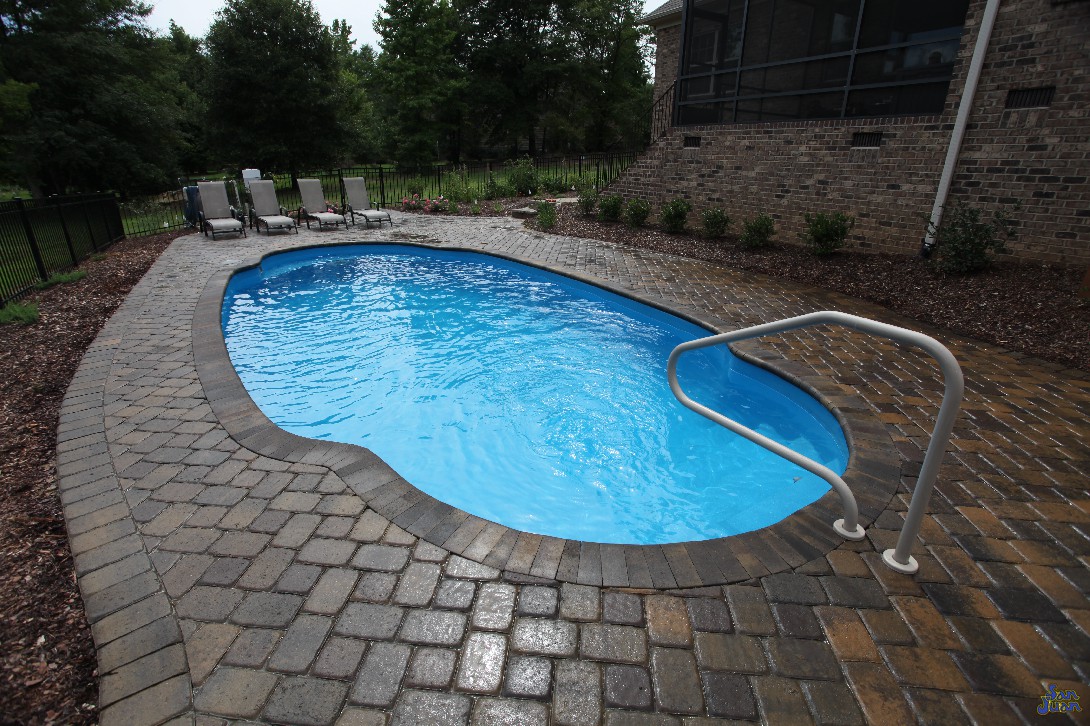 Orient It Any Direction
That being said, working with a small backyard and the Pompano Beach swimming pool, you've got lots of options you may have never considered. Lots lines permitting, you can orient your swimming pool to face whatever direction you want. The overall length of 28′ 9″ is perfectly for a diagonal or horizontal orientation in your backyard.
Also, pairing one of our backyard accessory items (listed above) provides you with lots of decor options that fit within your budget. Secondly, smaller backyards require less furnishings than a larger backyard. You smaller living space permits you with more capabilities to work within your budget – another benefit you may never have considered! See, the options are getting better by the second!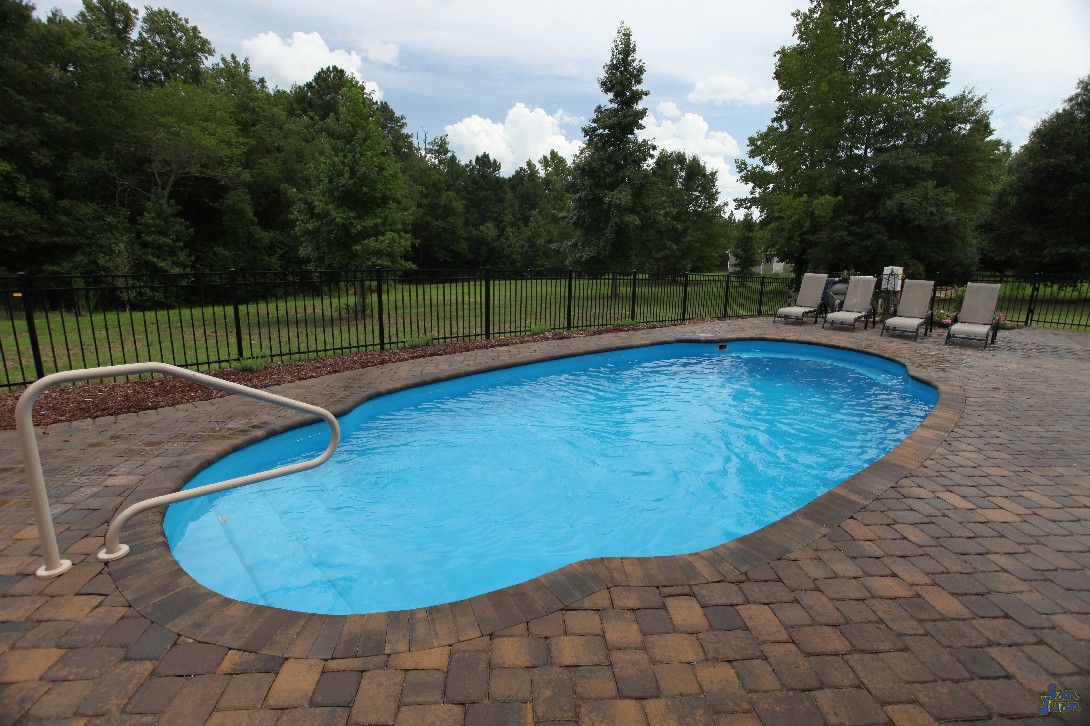 The Benefits of Owning a Small Pool
As we've already hinted, owning a smaller swimming pool works wonders on your monthly budget. Smaller bodies of water require less chemical cost – yes, you still need to maintain the water, but the amount of chemicals will be in smaller quantities.
Secondly, a small pool permits you to use less electricity. All residential swimming pools require a complete water turnover within 8 hours. For a pool of 9,500 gallons this equates to only 20 gallons per minute! Not only can you run your pump at a lower RPM (for variable speed pumps) but you can utilize a smaller pump to filter your water (for single speed pump owners). Also, you can save some up front cost by selecting smaller pool equipment (don't worry – we give you all this information up front).
Now, if this sounds good to you, we're glad! At Fiberglass Pool Guyz, part of our mission is to provide the best information for our customers to make the best decision for them and their homes. Many people are beginning to turn to the web for information that they once did not have the power to access. At Fiberglass Pool Guyz, we want to operate as an asset for your swimming pool shopping experience. Please feel free to reach out to us if you have any questions at all! After all, a happy customer is a great customer!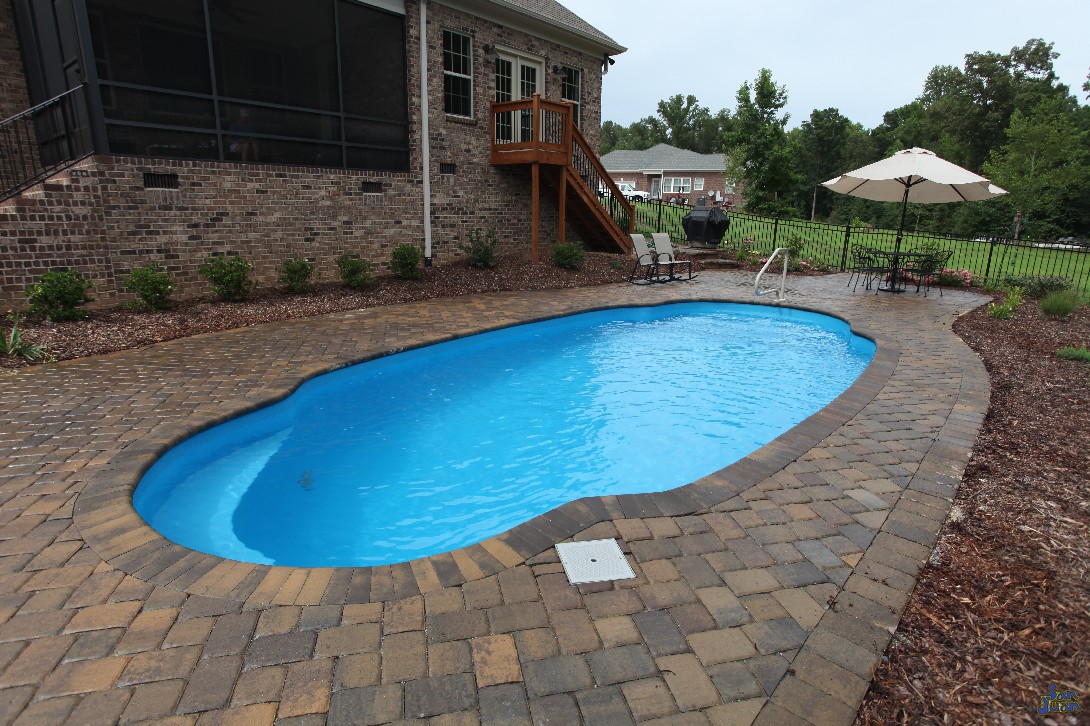 The Pompano Beach – Pool Specs
Width: 12′ 11″
Length: 28′ 9″
Depth: 5′ 8″
Surface Area: 306 SQFT
Volume: 9,500 Gallons
Pompano Beach - Pool Details

Pompano Beach - Dig Specs

Browse Our Other Pool Shapes!