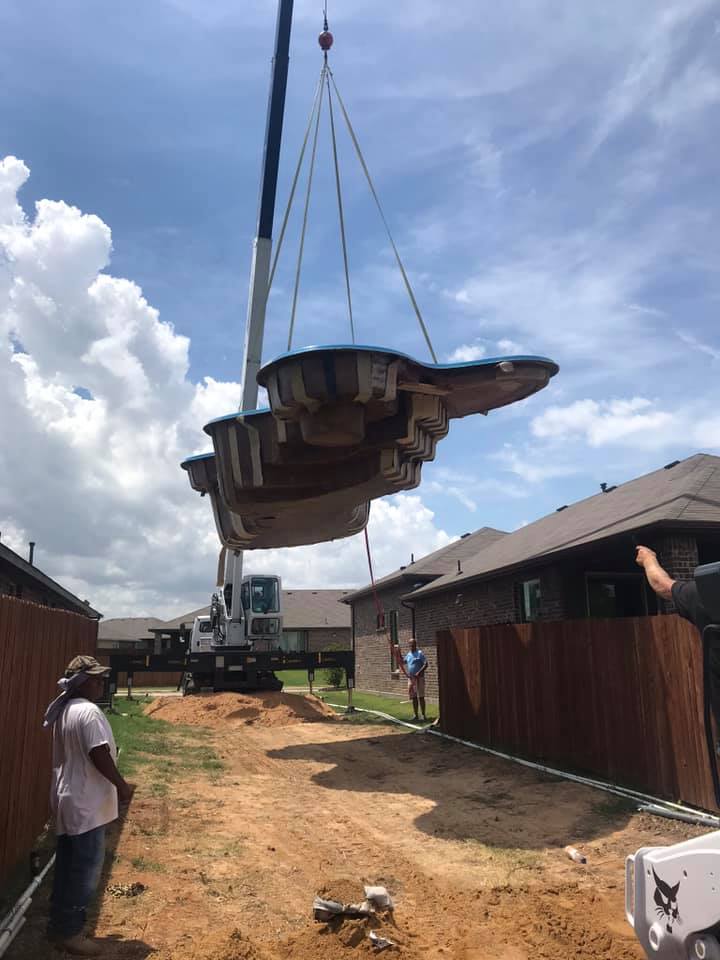 Another dashing feet for Fiberglass Pool Guyz! We have another successful landing of a fiberglass swimming pool at one of our job sites! By now, you may be getting used to seeing us use cranes to set fiberglass swimming pools in the ground. It seems that it's by happen chance lately that we've been using this sort of installation method at a lot of our job sites.
Whether it be smaller yards, tight streets, limited side access to the home or just a really large swimming pool – lately, it seems our pools are delivering from the sky. It's an awe striking moment and it's fun watching the faces of onlookers as they witness a thousand pound fiberglass tub being lifted over several houses and into a backyard. Not only is it an impressive moment, but it's also amazing how quickly the entire event transpires.
From the moment that our crews arrive on the job site, we begin our preparations. We work quickly and steadily as we await the moment our swimming pool or spa arrives on the back end of the San Juan Pools tractor trailer.
Folks may think that lifting this swimming pool would require a large crew and plenty of time, but we can manage with a small crews of trained experts. As a matter of fact, we are billed by the hours for the crane to be on site and often we are ready for the lift prior to the crane ever arriving. It's a fun event to witness and you won't believe the accuracy of our crews and the gentle way that we handle these huge swimming pools!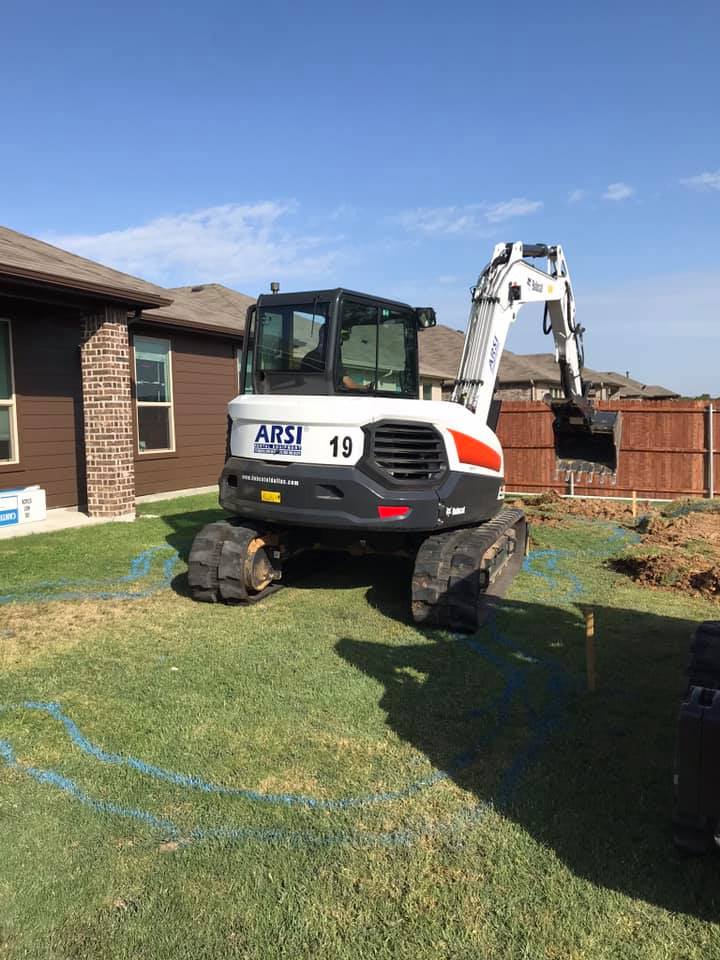 Another Desert Springs… in Fort Worth TX
We don't know if it's something in the water or just the design, but it seems that the Desert Springs has gained some popularity with our Fort Worth TX crowds! In fact, we recently completed another Desert Springs installation earlier last year in the same city.
So what's so great about the Desert Springs? Well, for starters we believe that the wild, free form design has something to do with it. As you swim from one end of this pool to the other – you'll enjoy little nooks and crannies to sink into. It appears that this swimming pool invites it's guest into intimate conversations for moments away from reality and into tranquility.
Additionally, the Desert Springs packs a lot of other benefits such as an attached fiberglass spa. That's right! If you select the Desert Springs for your home, you'll be receiving a swimming pool and spa that you can utilize all year round! Lastly, the Desert Springs provides other convenient selling features, including:
9″ Deep Splash Pad that is 6′ 3/4″ wide
3′ 1″ Deep attached Spa that is 6′ 3.5″ wide
Dual set of entry steps: attached to Splash Pad & Spa
Two sets of swim out seats
Overall length of 30′
Deep end depth of 6′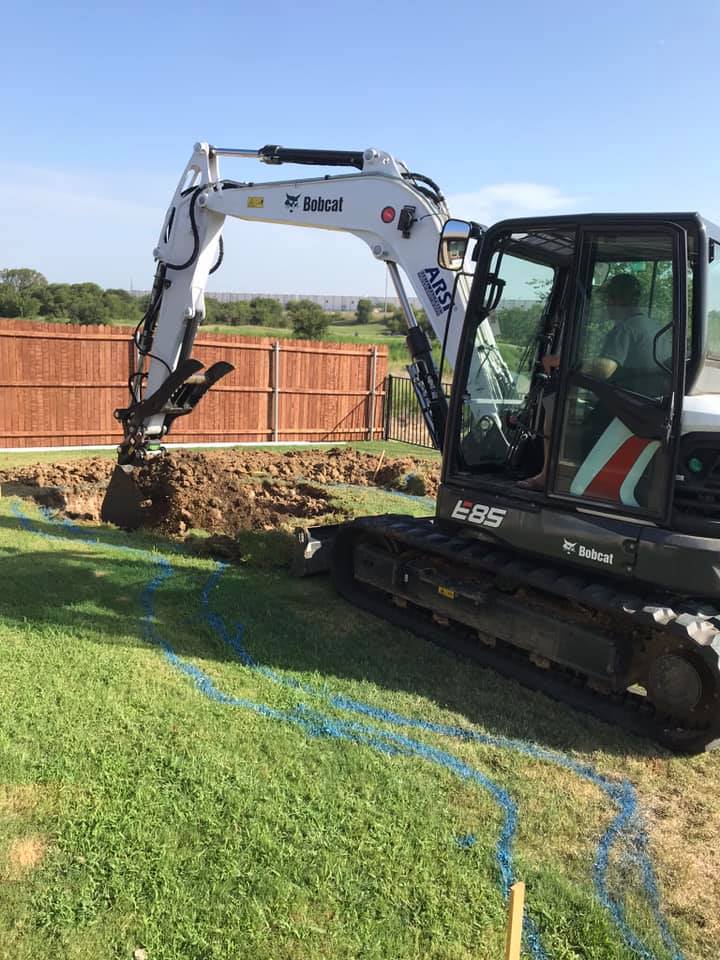 Phase #1: Excavation & Setting The Desert Springs
We love the scene that we create when we lift one of our fiberglass pools right into the warm, Texas air. It's a tell tale sign that someone will soon be cooling off in their new fiberglass lagoon! But before we create that awe-striking moment, we have to prepare our job site for the installation.
As always, we begin with coordinating the orientation of our swimming pool. We do this by taking a copy of our Cut Sheet (example below) and spray painting our shape and orientation into the grass of your backyard. Then we assign one of our crew members to man the excavator while spotters assist with excavating the correct size and shape for our hole.
Once this is complete, we double check our depth markers and validate that our measurements are accurate – all prior to the arrival of our swimming pool. Typically, this all takes place early on the first day – just in time for the delivery of our swimming pool (sometime around lunch).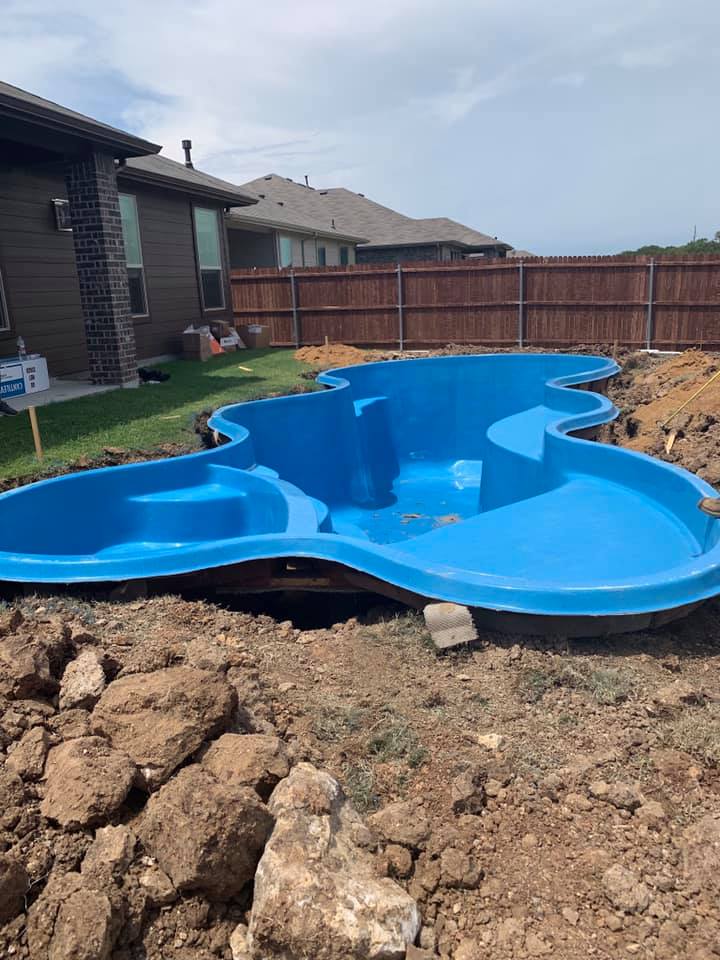 Lifting & Setting our Desert Springs
In instances where a larger machine (such as a crane) is required we gather the proper permits from our local town officials. Once all of the permits are required we schedule our installation and arrive at the delivery date. As our swimming pool arrives on the back end of the tractor trailer, our teams hook up our crane and stabilize the swimming pool for lifting.
Once we've validated that all of the hook up points are secure and that the load is level and stabilized, we begin the smooth lift to the backyard. This process can take anywhere from 30 minutes to an hour – all depending on the size, shape and accessibility of the backyard.
Once our swimming pool is lowered successfully into our excavated hole, we recheck for level and ensure that it is within manufacturer tolerance. After we verify level, we detach the pool from the crane and proceed to fill up (with water) and back fill with base material.
Get a Free Estimate Today!
We will continue this article on Phase #2 in the next couple of weeks. In the meantime, we invite you to browse our website and see all that we have to offer!
Fiberglass swimming pools are making a huge comeback in the Dallas Fort Worth Metroplex, and Fiberglass Pool Guyz is leading the way in installations and customer satisfaction. Our objective is to ensure that all of our clients love their new swimming pools and feel that they received the highest level of service from the experts – who love what we do!
If you would like to receive a free estimate for our services, we invite you to fill out our Contact Form! Getting started is easy and all it takes is to take your first step. We promise you'll love your experience with us and you'll find that our fiberglass swimming pools provide excellent value for a lifetime of outdoor fun and leisure!