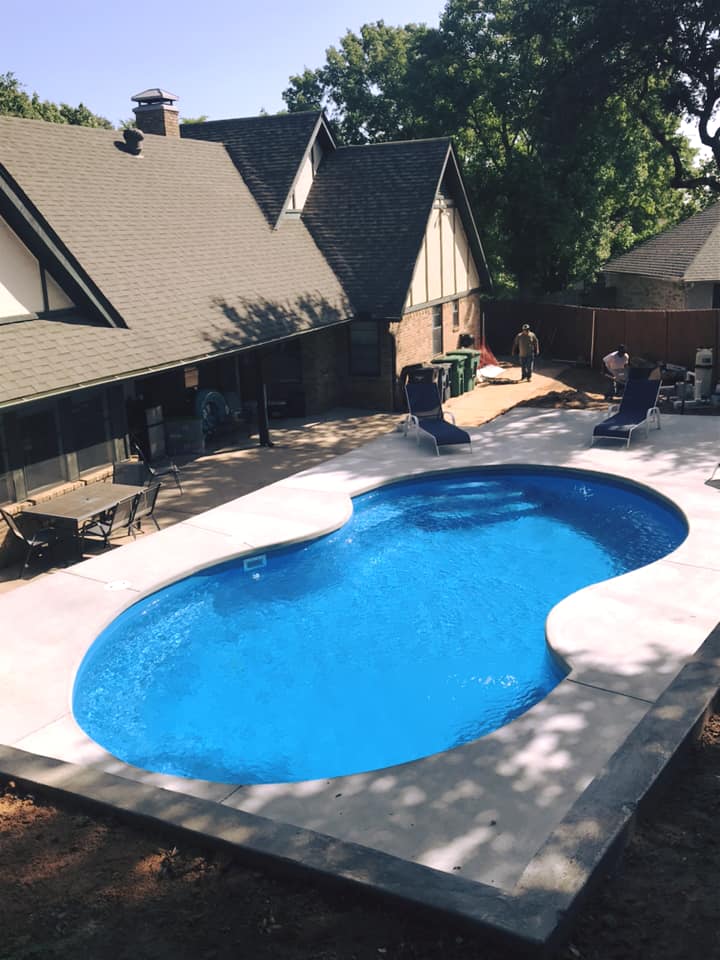 Have you ever watched a fascinating episode of HGTV and witnessed a home flipped and transformed? Let's admit it, we've spent more hours watching transformations than we would probably care to admit! In fact, watching something transform captivating. It draws us into the events as they unfold and we see something truly remarkable begin to take shape.
The same is true for this Fort Worth backyard. Prior to the start of our project, our client had a large backyard but with some steep inclines. The ground sloped towards the home and there wasn't any even ground for us to start with.
Similarly to HGTV, our crews inspected the property and created a game plan for pulling off another fiberglass swimming pool installation. Starting first with grading and sloping the soil: we created the tapestry for us to create and build. From there, we followed the traditional process of our installations and finished with a raised & level deck.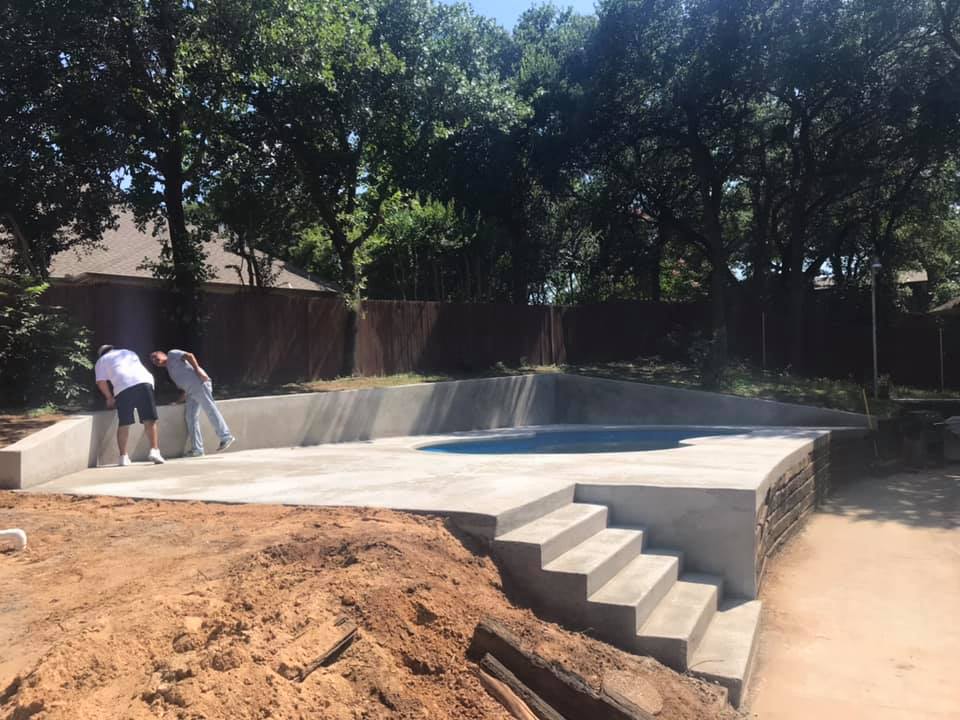 The Transformation Process
Like all swimming pool installations, they all follow the same procedures or guidelines. Our process is simplistic and that's what a lot of our clients love about our product and our business. For a simple list of actionable steps that we take, we follow these basic installation guidelines:
Free In-Home Estimate: This is where we inspect the backyard & creating an installation game plan
Schedule the delivery of our fiberglass swimming pool or spa
Prepare our job site for installation day: includes grading & leveling the soil & excavating the earth
Install our fiberglass swimming pool: this includes plumbing & electrical
Chemically balance & startup our new pool or spa
Provide our clients with a "pool school" & educate them on how to operate their new outdoor oasis
This basic list of action steps often ranges from simple to complex. It's all based on what we have to work with. For this particular job site, we required a lot of planning, prep, soil management & supervision to ensure that everything went off without a hitch. Our crews guided our sub-contracted from setting & leveling our pool all the way to pouring & framing our concrete deck.
Each step of the process is crucial to our success and we ensure that all of our crew members & sub-contractors perform to the level of detail that our clients demand.
Before & After Pictures – A Totally Transformed Backyard!
As you can see from these images, this backyard looks remarkably different from day one to "pool school." We transformed this backyard from an unbalanced hillside into an outdoor oasis suitable for making family memories.
Upon completion of any project, we ensure that all of our clients are left with superb swimming pools that look fresh & clear. Our startup technicians diligently clean, vacuum and chemically balance our swimming pools so that our pools are perfect for your first day's swim.
If you were to imagine your backyard and what you envision for it's future design, what would you picture? Do you see yourself owning a swimming pool and entertaining groups of family and friends? Our fiberglass swimming pools and spas makes transforming your home both easy and affordable!
Install a Fiberglass Pool Faster & Easier Than Gunite
When you compare a fiberglass pool to a gunite, you'll find that there are some drastic changes. For starters, many gunite pool builders run weeks to months behind schedule. For instance, the date that we are writing this article is 06/26/19. It's safe to say that at this time of year, the majority of gunite pool builders are back logged all the way to September / October of this year.
How are we any better than concrete swimming pools? For starters, our swimming pools are manufactured at the factory (not in your backyard – as gunite pools go). Instead our pools are ready to be installed the moment they arrive on your street. In fact, on delivery day, it's often only a few hours until that pool is transferred from the delivery truck into your backyard.
Often from the date that your pool is scheduled to arrive, it takes us on average just 14 days to complete your pool installation. This is rapidly faster than any other type of swimming pool and it's an amazing advantage when making the right choice for your home and lifestyle.
The Venetian Pool Model – Specifications
For this job site installation, our client selected the Venetian fiberglass swimming pool. This pool includes a stunning free-form layout with a standard hopper design (deep end on one side). Upon entering the Venetian, you'll enjoy a small curved bench that sits adjacent to the shallow end entry steps.
The Venetian provides the swimmers with a maximum depth of only 5′ 4″. This makes the Venetian a comfortable for most users. Additionally, the Venetian provides a water volume of 9,500 gallons which classifies it as a Medium Sized swimming pool (by our book).
Overall, the Venetian is an excellent choice for a home owner that is looking for a traditional, free form layout and a moderate sized backyard. It provides a stunning backdrop for any outdoor landscape and is sure to provide hours of fun and enjoyment for the whole family!