New Desert Springs Installation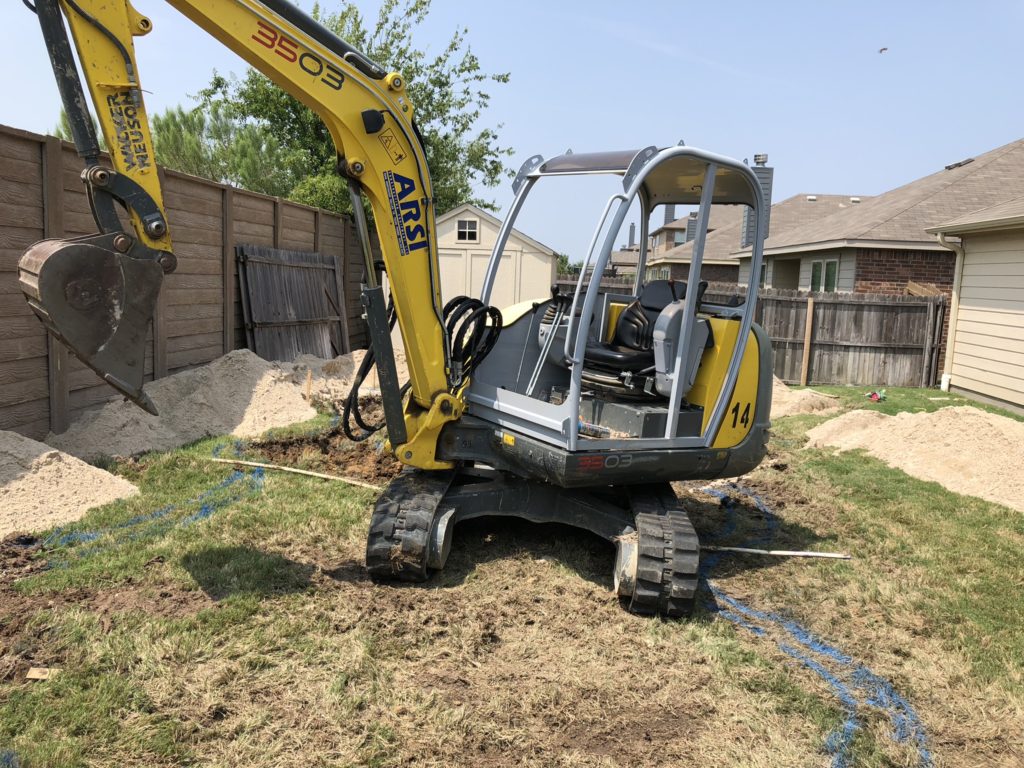 Located in Aubrey TX
If you were to drive down highway 380 north of Frisco, you'd reach a nice quaint town called Aubrey TX. This portion of the Dallas Fort-Worth Metroplex is an expansive area that's experienced a huge amount of growth over the past several years. There are many homes in this area of town with small to medium sized backyards.
Aubrey TX is also a very affluent area of town and many home owners dream of one day owning a swimming pool for their kids to grow up and enjoy. Hence, Fiberglass Pool Guyz are on the job! Fiberglass swimming pools are perfect match ups for backyards with small to medium lot sizes. Our compact size, ability to install our shells using cranes & limited equipment requirements allow us to get into tight spaces that the concrete pool builders can't!
Examples of Job Site Installations
If you'd like to see some of our swimming pools installed in small to medium sized backyards, check out our Recent Installations column! We're packing our website full of job site installations so that you can see for yourself that we are the professionals you can trust!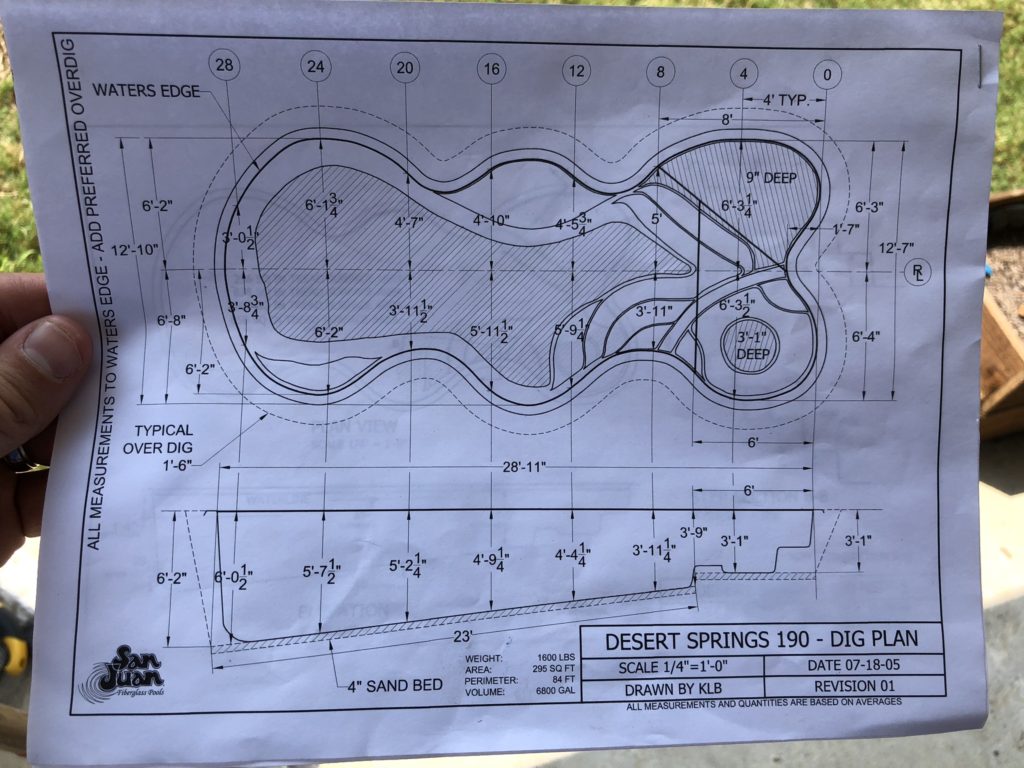 The Desert Springs Pool Model
This lucky home owner is waiting for their Desert Springs pool model to arrive! The Desert Springs is a very unique fiberglass pool shape that we consider to be part of our free form pool family. This swimming pool packs a lot of fun punches including:
A large Tanning Ledge (or Splash Pad)
Multiple built in seating locations
A 3'1 Shallow End & 6′ Deep End
Free form pool shape that is both entertaining and exotic
Since it's inception as part of our fiberglass pool lineup, we've received lots of interest for The Desert Springs! For more examples of The Desert Springs, check out our Fort Worth TX installation that we completed earlier this summer! As you can see, this pool model is beautiful to look at and provides lots of fun swim areas for the kids, family and guest.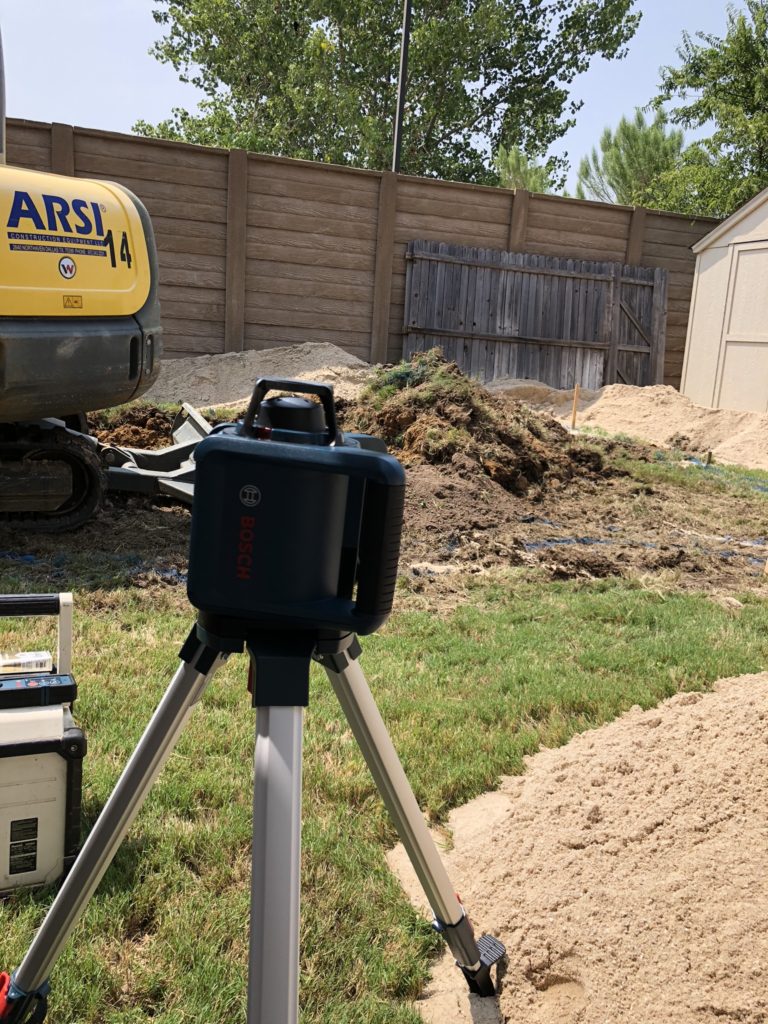 The Excavation Phase
As you can see, we are in the Excavation Phase of our fiberglass pool installation. Like all construction jobs, taking the time necessary to prepare leads to faster installations & a better product for our clients. We work diligently to prepare our job sites prior to the arrival of our pool shell. As you'll see in an upcoming article (where we show the pool arriving) things move pretty quickly on delivery day.
For now, while we have the time, we use our excavator, dig sheet, laser level & depth marker to dig our hole in the shape of our swimming pool. This is also the moment that we orient the placement of our swimming pool. If this looks overwhelming to you, don't worry – we handle all of the hard work and cleanup.
We cover all of this information with you during our complimentary home consultation. You'll feel right at home with the Fiberglass Pool Guyz family!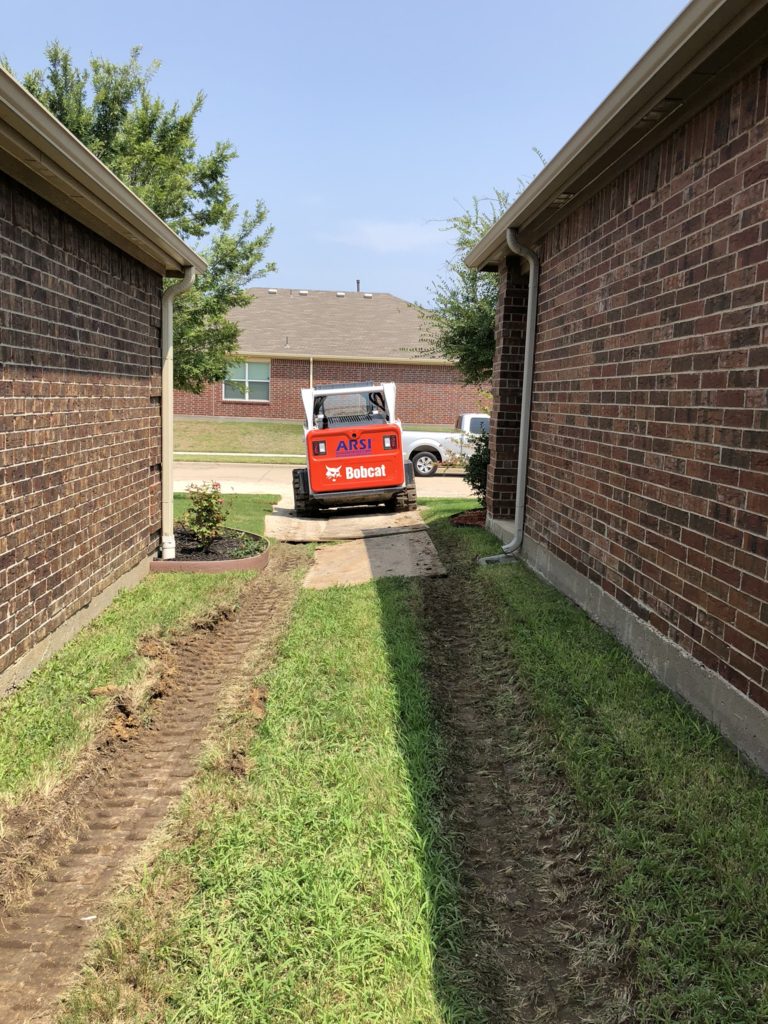 Our Logistical Considerations
As with any job site, there are always logistical hurdles that one must face during the execution of any construction project. In our instance, we have limited room to get our excavator into and out of the backyard. These homes offer small fence lines; we had to remove the fence between both homes for our equipment to operate.
Secondly, when our pool shell arrives, we are lifting it from the parking lot next door rather than from street level. This will allow us a closer approach to the backyard and is easier to get the crane in and out of the job site.
It Moves Fast From Here
Lastly, as with any new fiberglass pool installation, when our excavators arrive it means that our pool shell is on it's way. This backyard may seem full of grass today, but we will have it dug out by the end of this afternoon.
By the miracle of fiberglass pools, by sunset tomorrow we will have a Desert Springs pool model in the ground and filling up with water. By the end of next week, this fiberglass pool installation will be complete and ready for it's new owner to dive in for some summer fun!
What's Next?
Now that you've seen a little bit of the prep work, what's next? Once we complete the Excavation phase there are several steps that we need to complete prior to this swimming pool arriving:
Set our pool equipment
Run our plumbing & electrical lines
Off load & lift our fiberglass swimming pool (upon arrival)
Set the pool & ensure it's level
Plumb in our plumbing & electrical lines
Fill up with water & back fill (this must be done at the same time)
Job site cleanup
Scheduled our startup technician to clean up the water, program the lighting & provide you with a pool school
Time to swim!
That's a long list of items and they all involve their technical steps. We take the time necessary to ensure that each one is carried out and we do it in a timely manner. Fiberglass swimming pools are amazing products because we can install them in as little as 14 days!
Often our job sites end much faster and our customers are in their pools swimming by the end of the month. This is a fun job and we care about our customers and the great job that we do. It's why we are so passionate about these swimming pools and know that you will be too!