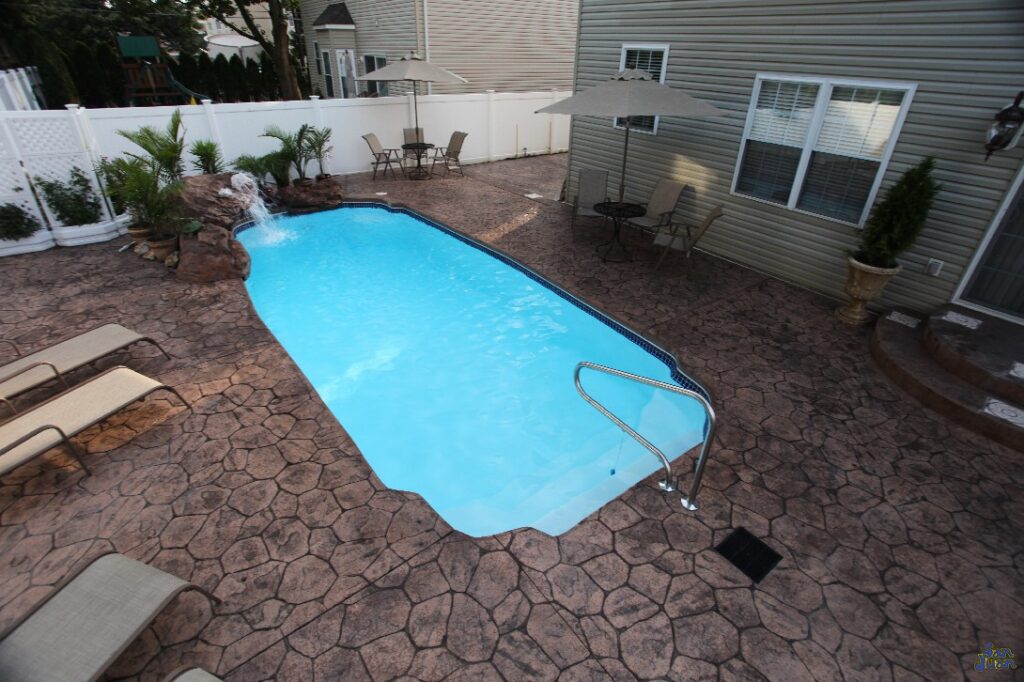 The Hawaiian – A Classic, Grecian Design
Have you searched our huge inventory of fiberglass swimming pools and still can't quite find you're looking for? Are you seeking a classic design that reminds you of how pools use to look and feel? Do you prefer your shallow end steps to be to one side and your deep end to another? Do you have a medium sized backyard that can fit a 10,000 gallon pool?
If you answered "Yes" to any of these questions – the Hawaiian fiberglass pool may be right for you! This pool design is among our "classics" because of it's old-school layout. What do we mean? Well, if you were to look over our inventory of fiberglass pool shapes, you'll notice a huge array of varying shapes and sizes. From free form pools, to sport hoppers, deep ends and tanning ledges – our designs offer many features to a wide audience.
But in some cases, our customers desire a classic layout with a traditionally shallow / deep end combination. Additionally, you may be looking for a rectangular layout that fits most backyards. Hence, we've added the Hawaiian to our inventory line up!
Rectangular Shape with Wide Shallow End Steps
One popular aspect of the Hawaiian pool shape is it's classic rectangular design. Although not a true rectangle (because of the Grecian corners) this pool fits most definitions of a "rectangular" layout.
Additionally, this model provides a unique seating arrangement due to it's wide set of shallow end steps. This feature is a crowd favorite because of it's comfortable and spacious seating arrangement. Hang out with your friends on a warm summer evening. Play some ring toss or use it for swim lessons. These wide shallow end steps are a classic and provide a lot of avenues for maximizing your time outdoors!
The Features
To summarize, our clients love the classic, rectangular layout of the Hawaiian fiberglass pool. It's footprint of 304 SQFT provides a large amount of swimming area – 10,000 gallons.
Additionally, our clients love the traditional hopper layout. With a wide set of shallow end steps and a gradual grade down to the 6′ 1″ deep end – this is a classic layout. Contact us today for a free estimate!
The Pool Specs
Width: 11′ 9″
Length: 27′ 11″
Depth: 6′ 1″
Surface Area: 304 SQFT
Volume: 10,000 Gallons