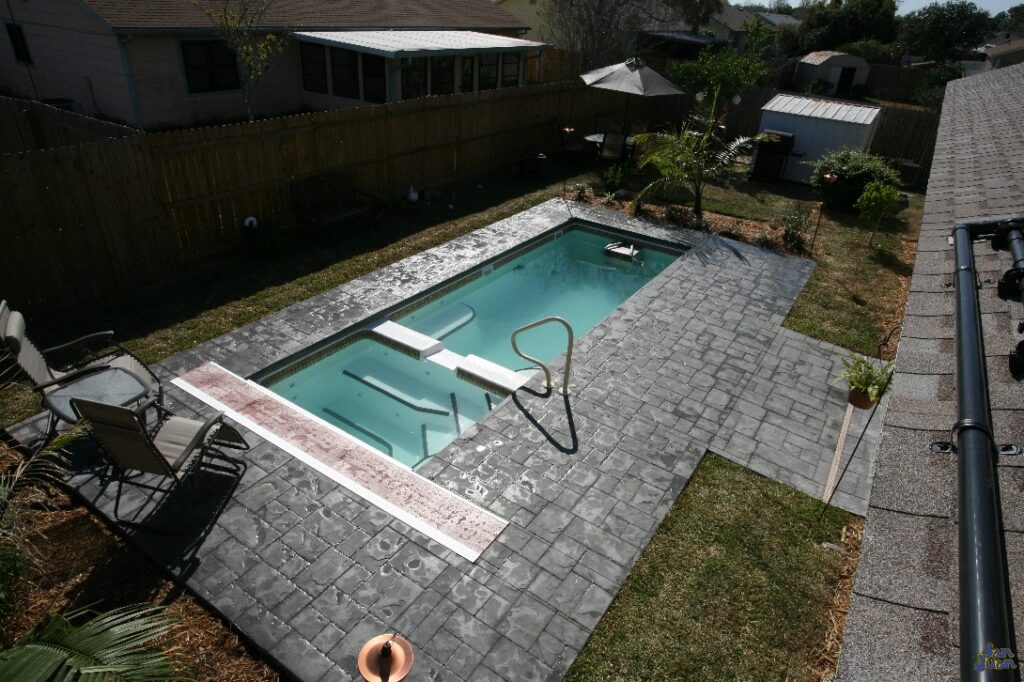 The Cyberlane (with Spa) – A Petite, Rectangular Pool with Attached Spa
The Cyberlane (with Spa) is a unique design created by San Juan Pools. This compact design delivers an exceptional array of benefits into a compact 144 SQFT design. Crafted for smaller backyards, this design is the perfect option for those with limited yard spa.
In lieu of its design, The Cyberlane (with Spa) provides an array of swimming capabilities for each user. Comprised of a rectangular design, overall length of 22′ feet and flat bottom design – this is a compact lap swimming pool! Not only do you get to enjoy it's cool, refreshing waters during the hot summer months, but you can boost your workouts whenever you'd like!
Additionally, once the workout is over you can hot into your heated spa to sooth those aching muscles post-workout.
Flat Bottom Layout and Compact Design
What's more, the Cyberlane (with Spa) is a exceptional choice for those with beginner-level swimmers. It's overall depth of 4′ 9″ makes it a much safer alternative to some of our deep end fiberglass pool designs. Lastly, the flat bottom layout means that there is no varying degrees of depths. This design provides a consistent depth from one end to the other.
Parents can feel more at ease being able to watch their children from the comfort of the spa while being close at hand. Additionally, the Cyberlane allows for multiple swimmers to join together for a fun game of water volleyball or water basketball. Line up competitors on either end of the pool section to create a competitive environment for an afternoon of fun!
The Features of The Cyberlane (with Spa)
In summary, the Cyberlane (with Spa) is an exceptional choice for those with small backyards. It's overall spa of 144 SQFT consumes very little area in your backyard. Despite it's small size, this pool model provides a wide array of swimming abilities. Relaxing in the attached spa, lap swimming, water games or raft floating – you can do it all in this pool model.
Lastly, the Cyberlane (with Spa) has a total water volume of only 4,240 gallons. Pair this pool with a variable speed pump to make it highly energy efficient. Not only will it cost less to run your system (at lower pump speeds) but it will also consume less chemicals compared to large swimming pools. Now you can boost your outdoor activity, have fun with family and friends while saving money! You can get it all here by contacting us today to get started!
---
The Pool Specs
Width: 7′ 6″
Length: 22′
Depth: 4′ 9″
Surface Area: 144 SQFT
Volume: 4,240 Gallons
Cyberlane-Dig-Specs

Cyberlane-Pool-Details

Shop the Post
The Cyberlane (with Spa) is the sister of our Cyberlane (w/ out Spa) pool model. This unique design features an overall length of 22', a maximum depth of 4' 9" and a total width of 7' 6".