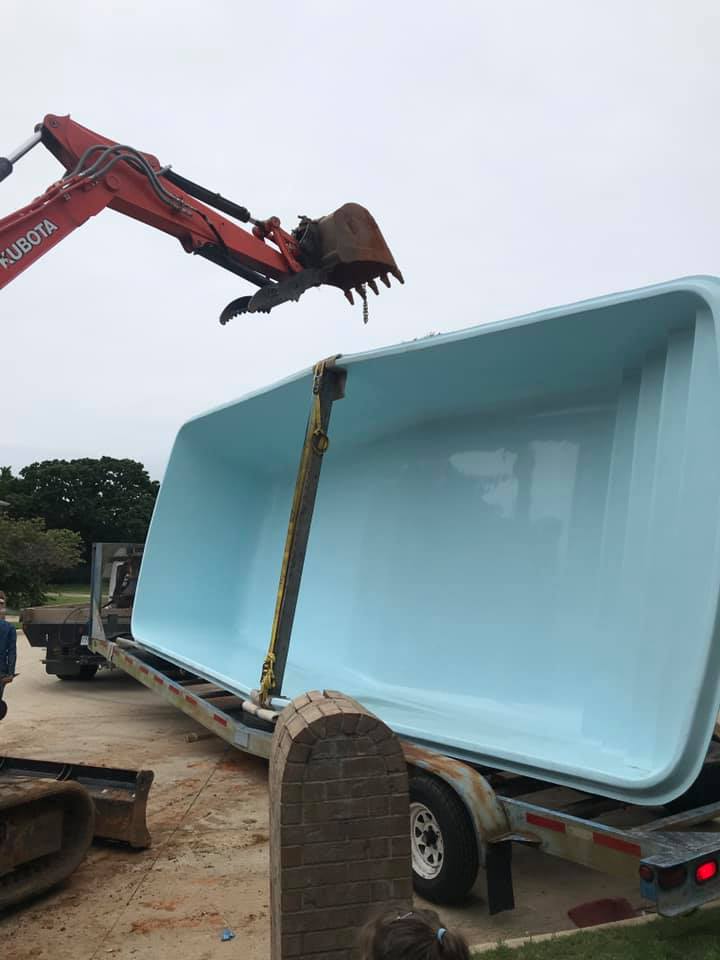 Well folks, Summer 2019 is finally here and in full swing. Many home owners are feeling the temperatures rise into the low 90's and the nasty humid air of North, TX. Thunderstorms are rolling through regularly (due to Spring) but we know that is a short lived phenomenon. Pretty soon cloudy skies will give way to heat waves, bored kids and a backyard full of dead grass.
We've all been there. But would you like to have a cool & crisp lagoon to escape to when the temperatures heat up? Are you tired of always visiting that community pool to cool the kids off while battling bathroom lines and bringing money for snacks?
If you have any desire to own a swimming pool of your own, why would you wait until next year to start the process? Do you really want to be another year older and allow the kids one less year to enjoy a swimming pool of their own? At Fiberglass Pool Guyz, we believe that everyone should enjoy owning a swimming pool and are here to help!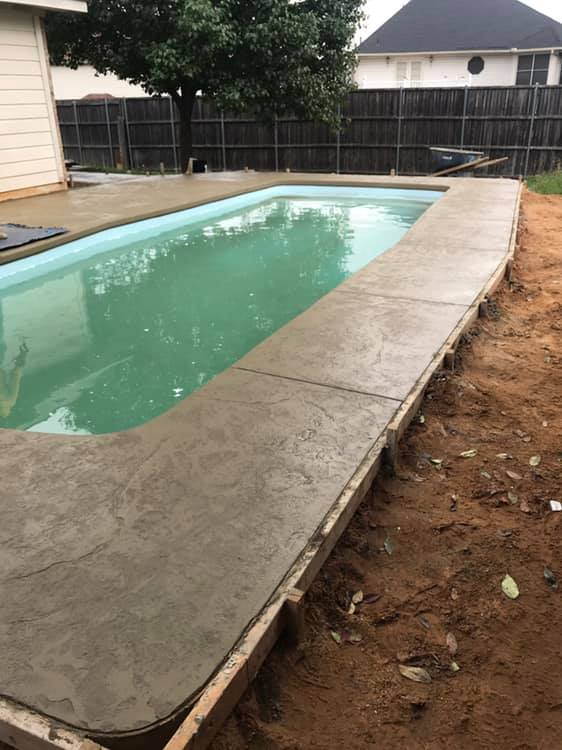 A New Waikiki II – Installed in Corinth, TX
This client of ours certainly believed in the dream of pool ownership and purchased the Waikiki II. This beautiful fiberglass swimming pool includes a few fundamental components that enhance its functionality and design:
In essence, the Waikiki II is a wide swimming basin with lots of room for swimming & sitting. You can entertain a larger party of guests with this fiberglass pool. It is literally designed to enhance your outdoor lifestyle and give your friends and family a place to cool off!
Lastly, in addition to it's wide frame – the Waikiki II provides a perfect place for activities such as raft floating, swimming, & water games (volleyball & basketball).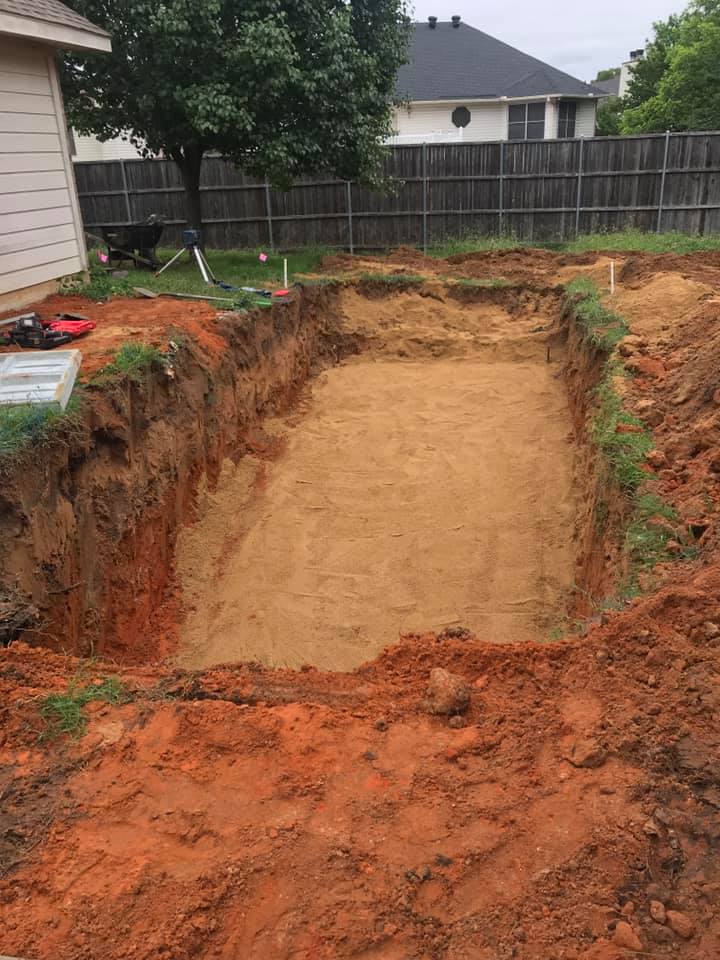 The Process from Day 1 (Excavation) to Completion
As you can see here, we are nearing the final stages of this installation. From this point, all that is left to complete is Chemical Startup (making the water look crystal clear) and Pool School.
If you've been following us for sometime, you're probably familiar with the fast installation times of a fiberglass swimming pool. As these images clearly indicate, installing a fiberglass pool is both very fast & efficient.
It all starts with the swimming pool arriving from the factory. While it is in transit, our crews prepare our installation site by excavating & removing the earth (creating our hole). Upon arrival, we simply lift the fiberglass pool and set it in the pre-excavated hole and proceed to level, fill & backfill the pool shell. Once that's done, we run our plumbing & electrical lines.
Lastly, once our plumbing & electrical lines are run – we schedule the installation of our concrete deck and startup.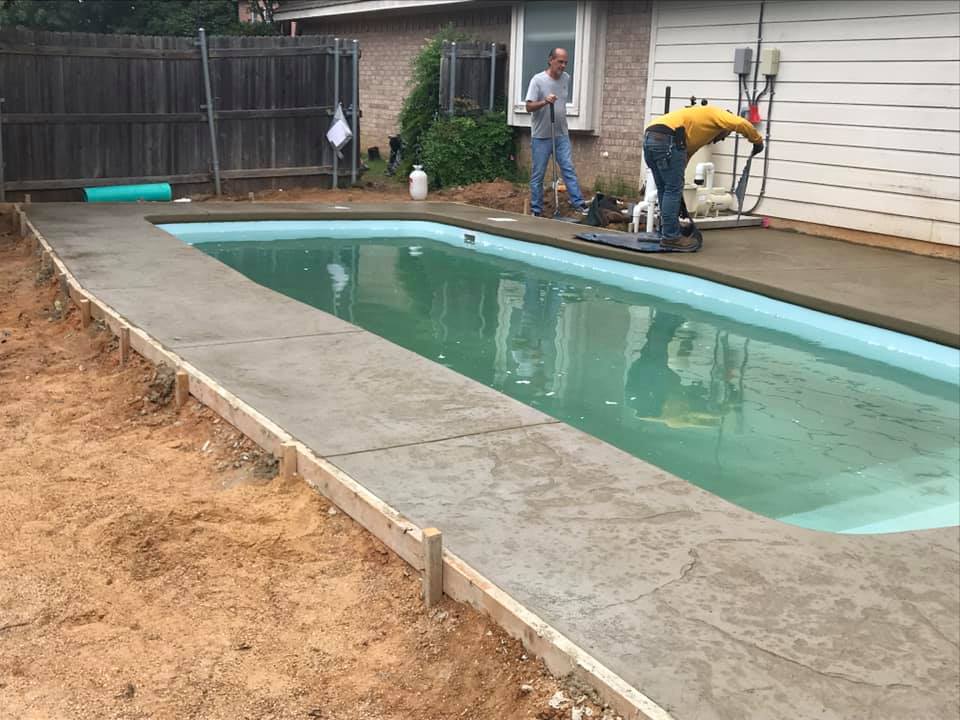 The Art of a Stamped & Stained Concrete Deck – Our Specialty!
As you can see here, we have the ability to design unique concrete decks that don't look like what you typically see. In most cases, home owners opt in for a salt rock concrete deck (flat deck with etched holes for texture). But in some other instances, our clients prefer a tailored & custom look. For these instances, we always offer our stamped & stained concrete pool decks.
Stamping & staining is a unique process that gives the concrete surface both texture and color. We can stamp unique designs onto the surface of the concrete to make it look like a totally different material.
Relating to this installation, our client selected a rock finish with some sewn in lines & stain for color. It's a unique finish that is has been created just for this client. It's also a beautiful finish that elevates our design and gives you something to show off to friends and family!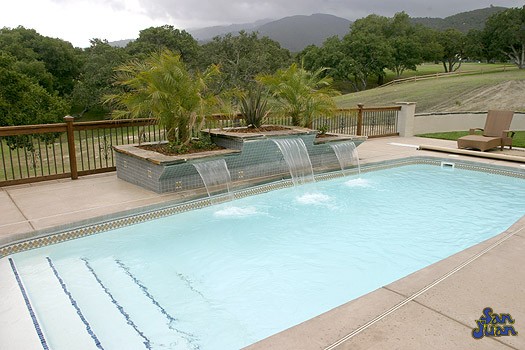 Create The Custom Backyard of Your Dreams
Now then, given the option and freedom to choose – what shape and size of fiberglass swimming pool or spa would you choose for your home? Do you desire a large swimming basin for family and friends? Or do you only want to have a small swimming pool or spa to escape to at the end of a long day?
We have a huge selection of pool & spa shapes to work with that we've categorized based on size of your backyard. This allows you to capture some measurements for your home and determine the shape that will fit before we ever visit for your free in-home estimate.
Lastly, do you want a fully functional outdoor living space? Have you always dreamed to building that outdoor kitchen with a fire pit, outdoor furniture and covered patio? Do you want some outdoor lighting that turns colors? These are all questions that we ask our clients as part of our sales process. It's also the types of decisions that you'll have the freedom to make as our clients.
If you're mind is beginning to move and you'd like some more information – give us a call! We are here to help provide you with additional information to make your buying process a breeze and get you into a swimming pool for Summer 2019!