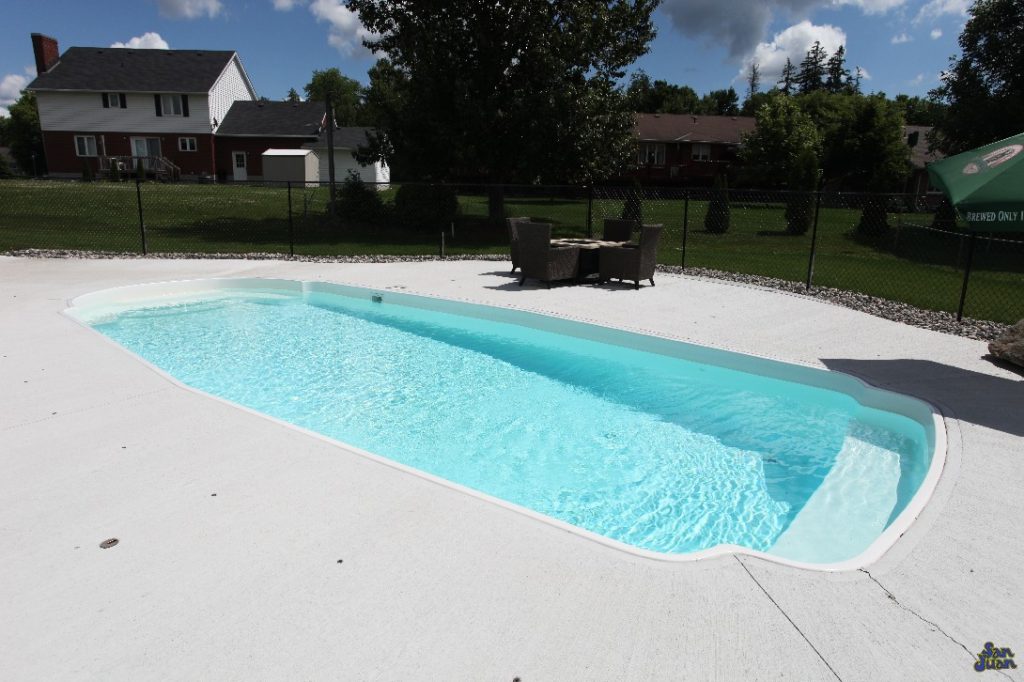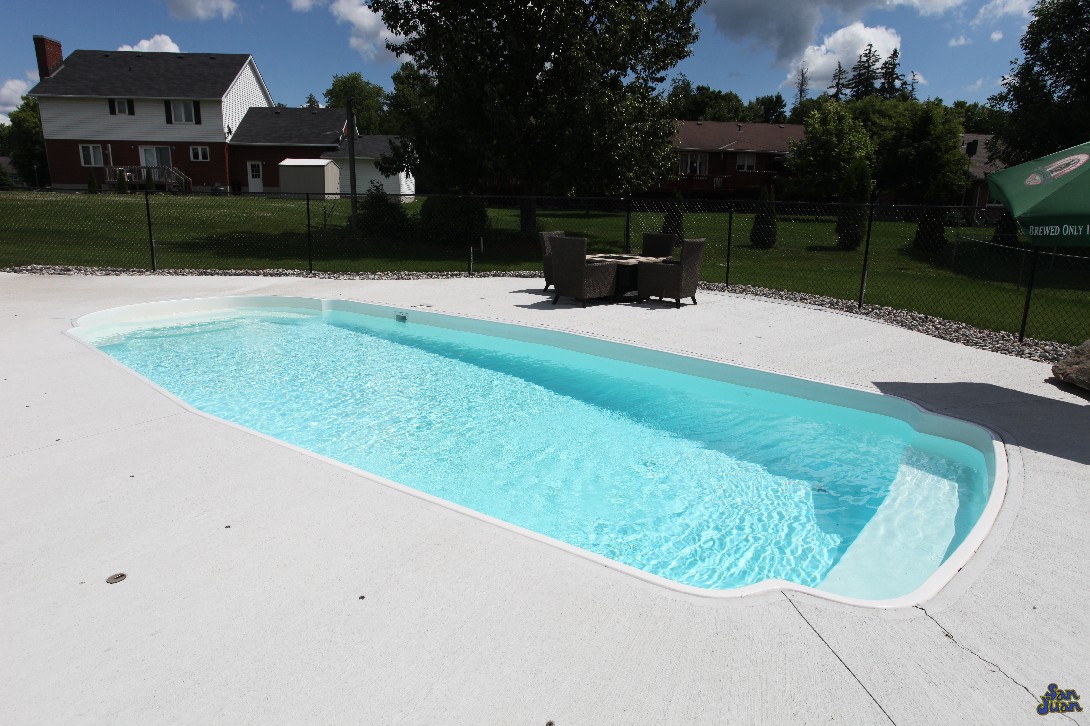 Summer is right around the corner and it seems like we always ask ourselves the same questions. What are the kids doing this summer? Do we want to send them to summer camp? Are they going to have their friends over? Who is going to watch them?
Pretty quickly our schedules will up with summer activities, party planning and scheduling pickups and drop offs. Moms and Dads everywhere feel the busyness of summer while kids get to enjoy being kids. We love summer and all that it offers. But we also feel that it's time to tip the scales back into favor of Moms and Dads.
We all deserve a little getaway now and again – to find a place that you love and allow your mind and body to relax. Traditionally, people save up thousands of dollars each year to travel on vacation – but not us. We believe that you can have a vacation spot right in your own backyard. In fact, we've got a huge selection of fiberglass swimming pools and spas to help you create your own outdoor oasis.
Our belief is that we can all have serene environments to enjoy. And yes, these zones often turn into kid play areas for parties, events or just fun weekends. In essence, stop the crazy pursuit of planning summer. Just build yourself a swimming pool and have that perfect getaway be right in your own backyard!
Standard Rectangle Shape with Dual Benches
If you were to ask us our opinion of which fiberglass pool or spa is best for you – we'd be hard pressed to answer. So many of our products are beautiful, spacious and provide a wide array of benefits to our clients. With so many choices, however, we certainly like the Savannah fiberglass swimming pool!
This little beauty is spacious, provides plenty of bench seating and it's all wrapped into a traditional shape. If you live in Dallas Fort Worth you most likely have a backyard that is about 1,200 – 2,000 SQFT. If you fall into this category, the Savannah would fit perfectly in your outdoor space – requiring only 362 SQFT for the pool itself.
Additionally, if you're into lap swimming, water aerobics or raft floating – the Savannah is a great choice for your home. You can enjoy all of the benefits of swimming pool ownership and fill your time with eventful moments, such as:
Pool parties
Water sports: basketball, volleyball, ring diving, water frisbee & much more
Swim lessons
Workouts and water aerobics
LED lighting & stunning water features
The Savannah is spacious enough and provides us plenty of options to customize for your benefit. Simply let us know what your design ideas are and we can help bring them to life right in your backyard!
The Little Sister of The Savannah Deep
If you've been following Fiberglass Pool Guyz for sometime, you may recognize the "Savannah" name. In fact, the Savannah is the little sister of another pool we've written about in the past – The Savannah Deep.
With the exact same external dimensions, both pool options look identical. The only differentiating feature is the depth of their deep ends. Whereas the Savannah (shallow) has a maximum depth of 5′ 8″ – the Savannah Deep has a maximum depth of 8′.
This is enough of a difference that it changes the maximum water volume of 11,500 gallons (Savannah shallow) to 14,000 gallons (Savannah deep).
Comfort from Dual Bench Seating
If you are like most of us, you enjoy kicking back poolside and enjoying the company of friends and family. The Savannah provides plenty of seating room from both it's curved Shallow End Steps & rectangular Deep End Bench.
Both locations are perfect for quiet moments with those closest to you. It's a perfect place to escape the hustle and bustle and to connect through conversation and companionship.
On the flip side – if you're an active spirit and require aerobic activity, the Savannah allows you to burn some calories from lap swimming and rest between reps. The Deep End Bench & Shallow End Bench are excellent to let you catch your breath before going at another round of laps!
The Pool Specs
Width: 13′ 2″
Length: 31′ 8.125″
Depth: 5′ 8″
Surface Area: 362 SQFT
Volume: 11,500 Gallons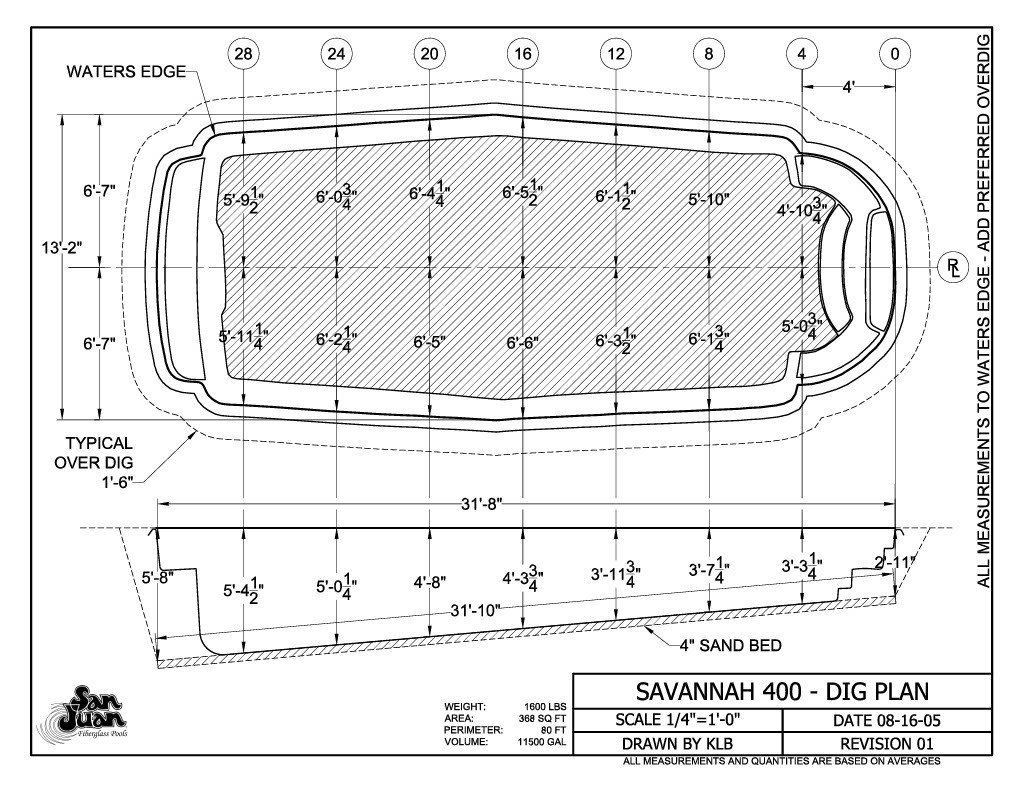 See Our Recently Installed Pools!
If you enjoy reviewing our pool shapes and that we have to offer – we'd like to invite you to read on! We've got dozens of fiberglass pools and spas to check out. Many of our designs are built for various types of clients such as: large backyards, free form designs, deep ends, bench seating, etc.
Essentially, we've worked hard to categorize our products to make shopping for them easier and time efficient. Therefore, if you'd like to grab a fresh cup of coffee and see all that we have to offer, come on! We love having you hear and invite you to give us a call or submit a Contact Form if you'd like to receive a free in home appointment and estimate. Our teams are ready to help you get on your way to pool ownership this summer!
Trust us, purchasing a fiberglass swimming pool for your home is easier than you think!