The Vancouver Spa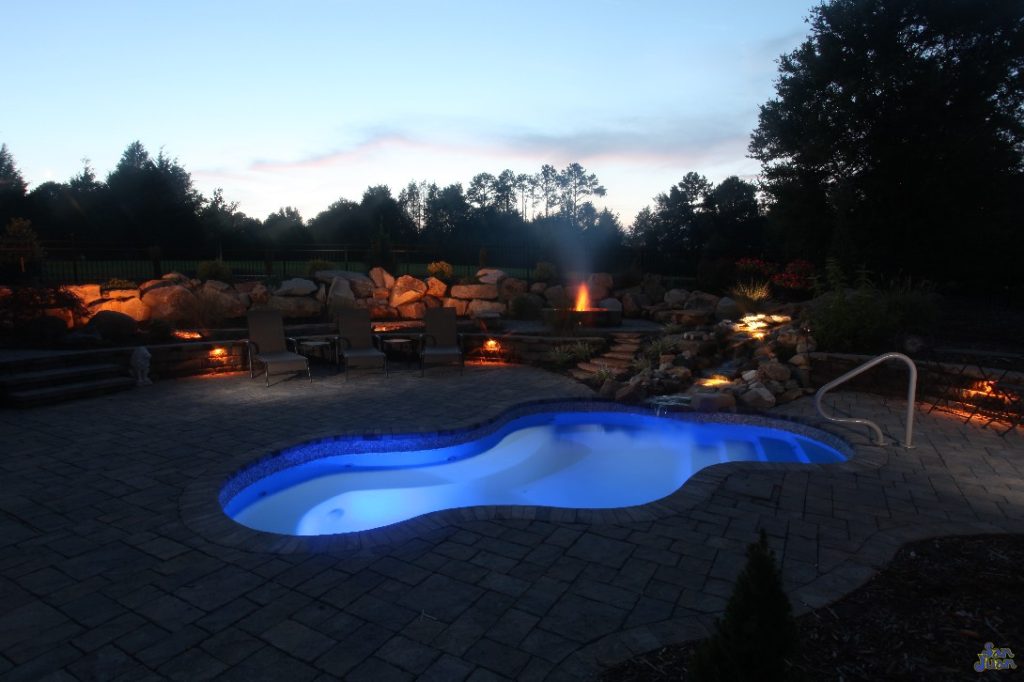 Free Form Fiberglass Spa
Burrr, the seasons are changing in Dallas Fort-Worth TX and we are feeling the chill here in the metroplex. The warm days of summer are now long gone, although we are getting the occassional burst of warm air for a day or two. However, those sunny warm afternoons are easily giving way to cooler, wetter weather conditions. It's time therefore to cover up those fiberglass pools and heat up those fiberglass spas!
At Fiberglass Pool Guyz, we have a convenient selection of 18 fiberglass spas to choose from. Just like our fiberglass pool shapes, we are adding articles over each spa shape (week by week). Therefore, if you do not see what you're looking for, just check back in later. Also, feel free to sign up for our weekly Email Newsletter. This is a great way to stay up-to-date on the recent releases of our fiberglass pool & spa offerings. Our objective is to keep you, our happy clients, in the loop and informed. Ultimately, we'd love for you to purchase a one of our fiberglass pool & spa shells for your home. Now, back to the Vancouver Spa!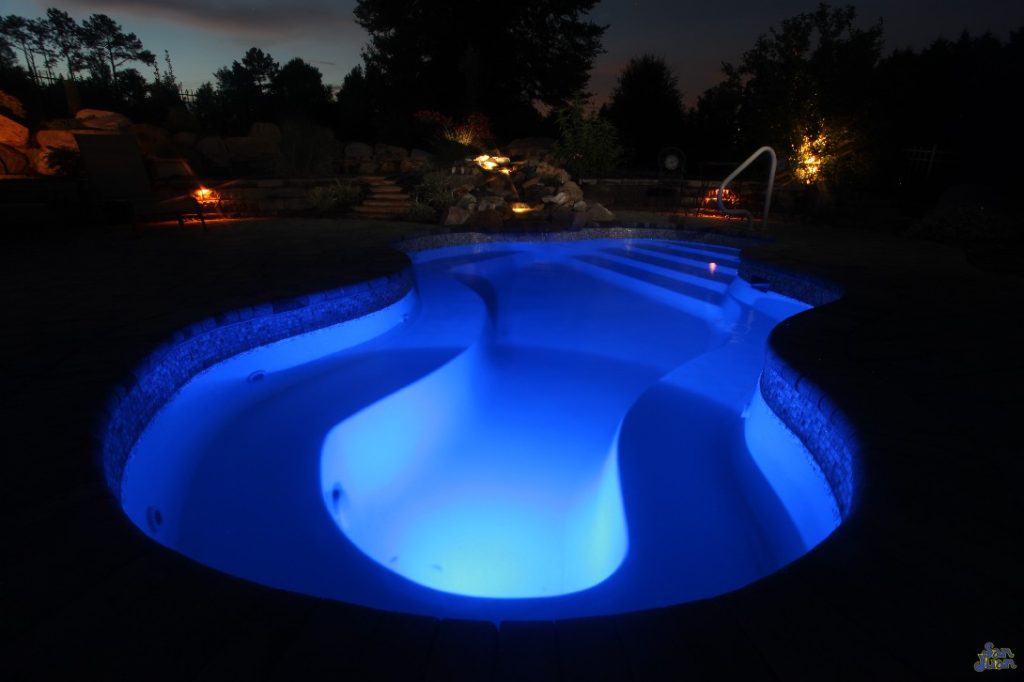 Large Enough for Multiple Swimmers
The Vancouver Spa is designed to handle multiple bathers in it large body. This spa shapes features a large curved bench that wraps around the entire inside of the fiberglass shell. You'll be able to easily sit up to 4-5 guest comfortablly in the Vancouver Spa. Therefore, if you have family coming into town for the holidays and need a great place for everyone to gather and relax, the Vancouver Spa might be just the ticket!
Upon entering the Vancouver Spa, you'll be greeted by a wide set of entry steps located in the shallow end. These steps are very wide and easily permit guests to enter and exit the spa with comfort and ease. Pair this elegant spa design with a figure-4 handrail and you'll wow your guest by the accommodations the Vancouver has to offer!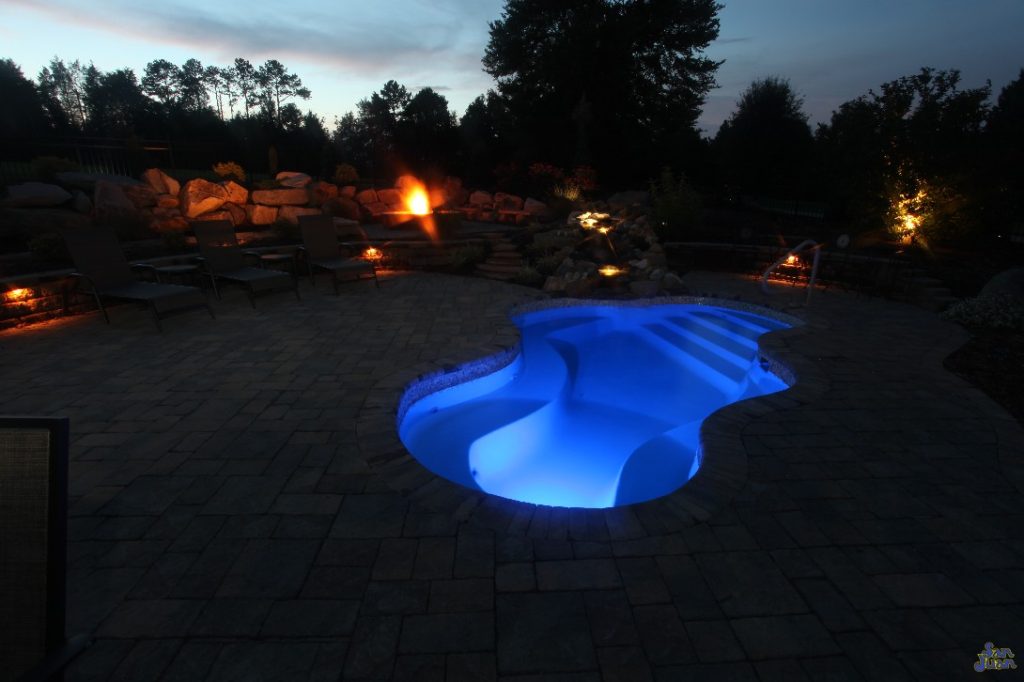 Flat Bottom Design with Large Entry Steps
Moving farther into the Vancouver Spa, you'll notice that this spa has a Flat Bottom layout. San Juan Pools (our manufacturer) designed this spa with a flat bottom to make it easier on bathers to move around. Spas can easily relax the muscles and make moving a little more taxing than a swimming pool. Therefore, it's important for your guest to easily move about without the hindrance of changing elevations along the floor.
Light It Up With LED Lighting
We would be remiss if we failed to mention the stunning views of the Vancouver Spa when paired with LED Lighting! This fiberglass spa is the perfect candidate for our SR Smith Treo Lighting System. Sold as a package to our clients, we will pair your Vancouver Spa with LED Lights that you can easily control from a handheld remote. You'll be infatuated with this spa shape once you have a few moments to play around with the color shows that our lighting system offers!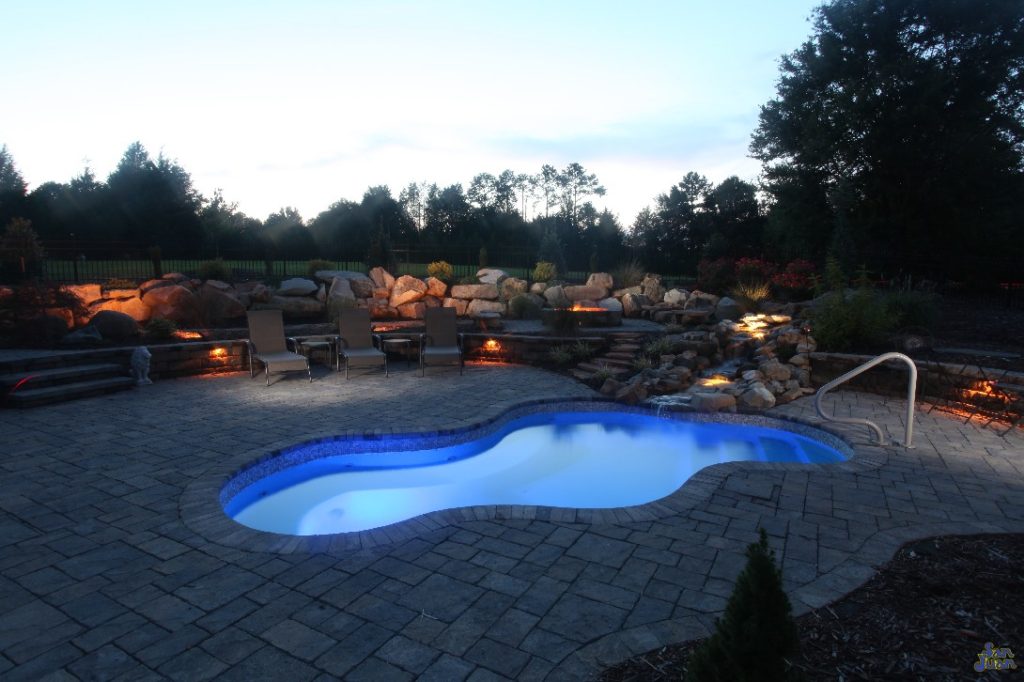 Enhancing Your Outdoor Living Space
These are some tremendous features that elevates the beautiful of your backyard living space. After all, that is a big belief of Fiberglass Pool Guyz. We are continuously working with our clients to remind them about the importance of viewing your backyard in a special way. Your backyard is no longer just a space for the dogs to relieve themselves. No sir. In fact, you're backyard is now an extension of your interior living space.
You can enhance your overall home lifestyle by extending your living space outdoors. We can help you do that! By purchasing a fiberglass spa from us, you're opening the door to a world of possibilities for enjoyment and entertainment! Contact us more if you'd like to find out how we can customize your backyard to maximize the fun!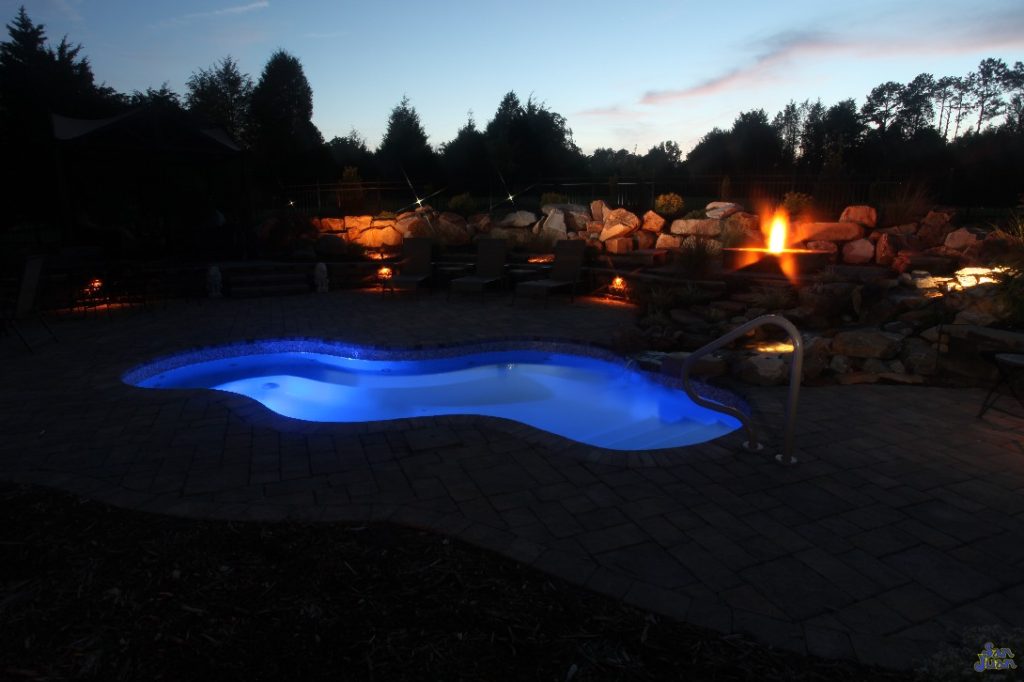 The Features
In conclusion, we are very proud to offer the Vancouver Spa as part of our stunning fiberglass spa lineup! This beautiful free form design is capable of holding multiple bathers. It provides a very convenient bench that wraps all the way around the interior of this fiberglass spa. Secondly, you're guest will have easy access due to the wide set of entry steps that we provide.
If you'd like to enhance your enjoyment of this fiberglass spa further, we suggest pairing it with a artesian or figure-4 handrail. This creates a safer way of entering your spa by offering a safe handhold for your guest.
Lastly, our SR Smith Treo Lighting package is a great way to elevate the level of fun at night. You'll be able to turn on a brilliant color show or select a static color; you're free to choose. Either way, by lighting up your Vancouver Spa at night, you're bringing your indoor lifestyle outdoor. It's all about creating additional living spaces outdoors and slowing down to enjoy them!
The Pool Specs
Width: 10′
Length: 17′ 2.5″
Depth: 3′ 9″
Surface Area: 120 SQFT
Volume: 2,050 Gallons
Vancouver Spa - Dig Sheets