The Stockholm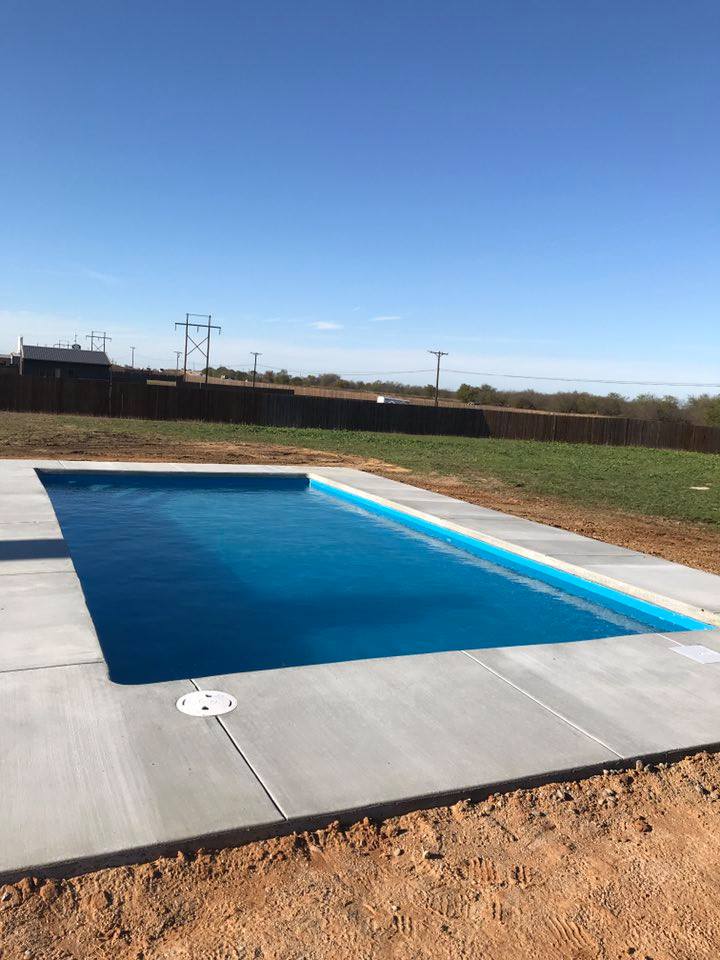 A Large & Modern Rectangular Pool Shape
We just completed the installation of another beautiful fiberglass swimming pool in the Dallas / Ft Worth Metroplex. This particular swimming pool is located in Decatur TX which is about 30 minutes west of Denton TX off US-380. For those who are newly joining us, Fiberglass Pool Guyz is capable of installing a Fiberglass Swimming Pool within 80 miles of DFW.
In this instance, our client selected a Stockholm pool model. This elegant pool is designed to be a long, rectangular shape with a length of 27′ 1″ & width of 14′. The Stockholm is one of our medium sized swimming pools and can fit snugly in most residential backyards. As you can see from the image above, however, our client had A LOT of real estate to set this modern fiberglass swimming pool.
5′ 9″ Deep End and Corner Entrance Steps
In conjunction with the wide bench, the Stockholm utilizes a corner set of entry steps. Therefore, rather than walk longways into the swimming pool, you enter from the side. This is a great option for home owners who have a wide backyard and want to maximize their pool layout from side to side.
Secondly, the Stockholm includes a 5′ 9″ deep end. This is a modest deep end (not our deepest – like the Taj Mahal Deep with an 8′ deep end) but it is also plenty for intermediate swimmers to work with.
Installed in Decatur TX
We love traveling all over North Central Texas to provide our clients with beautiful options for fiberglass swimming pools. In a lot of cases, we see strong demand from clients outside of the Dallas / Fort Worth Metroplex. This is mainly because pool builders don't like traveling to their job sites. Fiberglass Pool Guyz, is much different, however. We don't mind loading up our vehicles to install one of our fiberglass shells in surrounding areas. We'd rather our clients know they can shop with us and that we have the perfect pool or spa option for them!
Using a Crane to Set plus Sand for Back Fill
Once we were on the job, we installed the Stockholm pool by utilizing a crane. Our images showcase a wooden beam strapped across the middle of the swimming pool. This is utilized as a "weight distribution" beam and helps distribute the load while lifted in the area.
Our fiberglass swimming pools are between 3/8″ & 7/8″ thick. This makes them extremely durable once installed and in the ground. When they are in the air, however, we have to take precautions to distribute weight so we can safely lift and set our shells in their pre-excavated holes. Pretty cool stuff!
Framing Our Cantilever Concrete Deck
Once our swimming pool was installed & plumbed, it's time to pour a concrete deck. Here you can see our crews framing the outside of our fiberglass swimming pool and preparing for the pour. This process takes about one day to complete. Often the crew will send a few hands to lay rebar in the morning and the concrete truck will arrive later that day.
Of course, we always allow for cure times before allowing our clients to walk on the concrete decks. However, the concrete deck is often the last stage of the project. Therefore, once the new deck has properly cured, your pool is now complete and ready for you to enjoy! Last thing on the check list is getting us back to those 90+ degree days of summer…
Fiberglass Pool Guyz – Get It Done Fast!
If you're on the market for a new swimming pool and aren't sure where to turn your attention, why don't you give Fiberglass Pool Guyz a try? We offer leading & cutting edge fiberglass pool designs that are both strong & reliable. Our products ship with a manufacturer limited warranty that outpaces any warranty you can find from another brand of swimming pool.
We purchase our fiberglass pools from San Juan Pools and have over 100+ Pool & Spa shapes to choose from. We invite you to take a look at our inventory – both on our website and San Juan Pools'. Once you find a model that you are interested, simply fill out our Contact Us form and we can get you a free in-home estimate! We're fast and easy and you'll be amazed by the speed of our process and how quickly you can be a new swimming pool owner!
The Pool Specs
Width: 14′
Length: 27′ 1″
Depth: 5′ 9″
Surface Area: 345 SQFT
Volume: 10,000 Gallons
Stockholm - Dig Specs