The Crystal Springs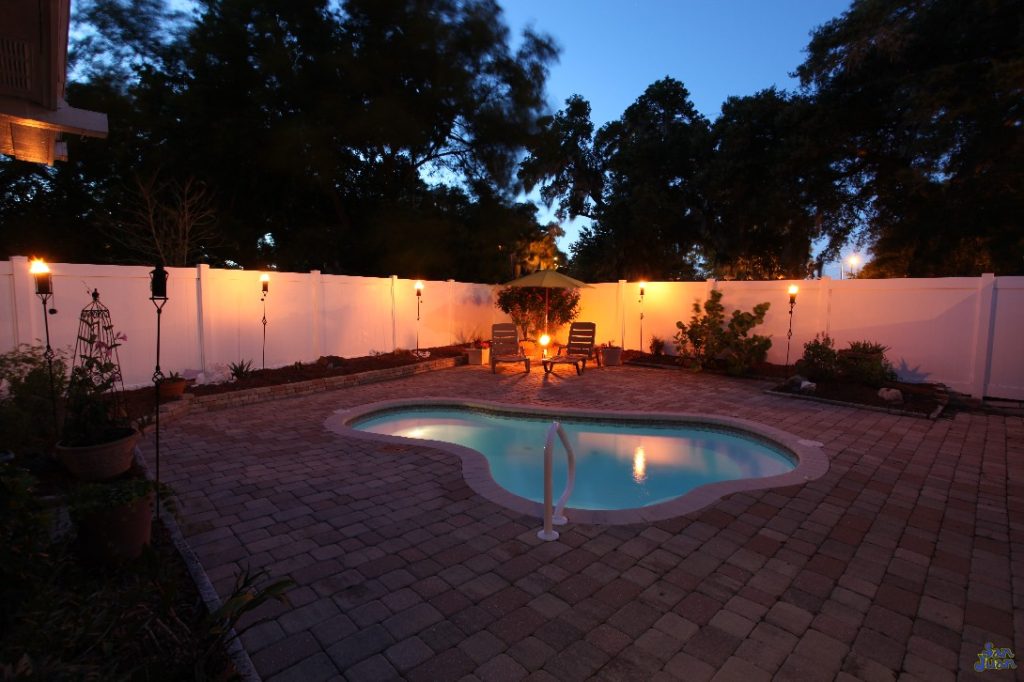 New Fiberglass Pool Installation – Celina TX
We are continuously on the move installing new fiberglass swimming pools across Dallas & Fort Worth TX. Here you can see our crews putting the finishing touches on a new Crystal Springs fiberglass swimming pool, in Celina TX.
Believe it or not, we are less than 7 days into this pool installation. Despite being on the receiving end of a wet spell (depicted by the mud) we maintained our promised installation date. Our customer has a few weeks of modest weather left to enjoy this beautiful pool and we couldn't be happier for them.
The trick to our speedy process, like all other industries is having your team's accurately scheduled & lined up to install. It's all about balancing delivery schedules with the crews to make sure everyone is on the same page. We have to allow time for our wet cement to dry before we coordinate our startup, and so on. It's a balancing act but we are the best at it, in the industry. You won't find a better team to ensure your fiberglass pool is installed professionally and rapidly.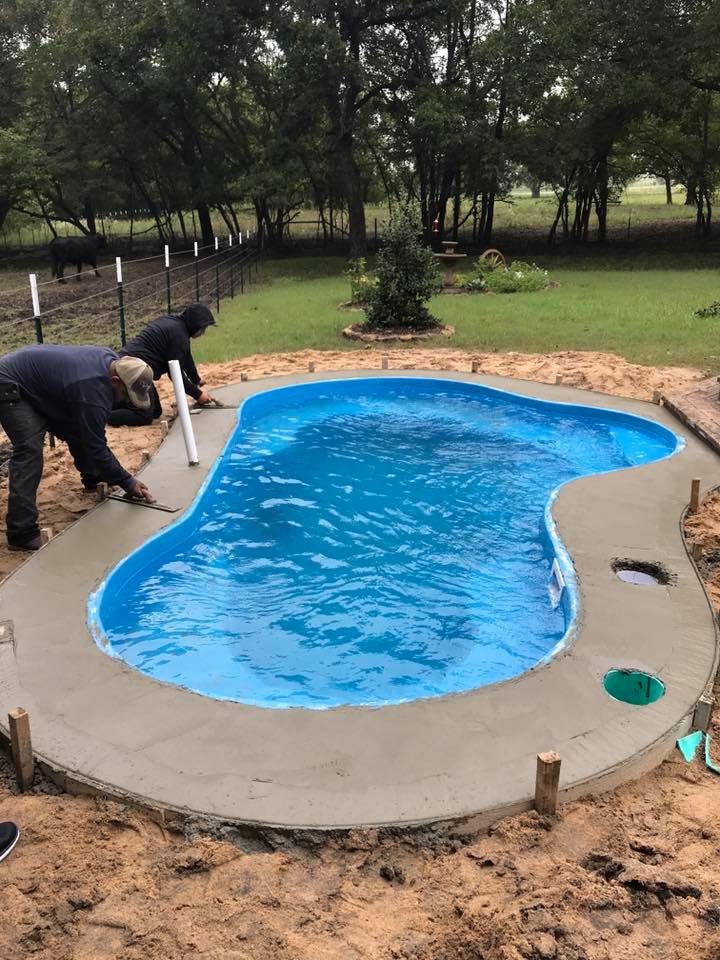 What's a Cantilever Concrete Deck?
Above you can see our crews troweling our concrete deck around the Crystal Springs. It looks simple enough, but building a concrete deck flush against a pool shell is technical business. This type of decking is known in our industry as a Cantilever Concrete Deck. Simply put, our concrete deck is adjacent to our fiberglass pool & creates a solid bond to the pool shell.
Secondly, rather than installing a stone coping around the edge, we use the same span of concrete to formulate our coping. Coping is the material that runs along the outside edge of the swimming pool and fits snugly between the pool & deck. In our case, however, we are using one unified body of concrete as a deck – hence, Cantilever Deck.
Petite Fiberglass Pool – Small Oasis
We consider the Crystal Springs to be part of our Petite Pool Shape family. Coming in at an overall volume of only 3,900 gallons, this is indeed a petite fiberglass pool! In fact, this swimming pool is so small that you could heat this body of water during colder months. This is a great way to extend your swim season and enjoy some quality time outdoors during colder months.
We highly recommend the Crystal Springs to home owners who'd rather dip in and relax than swim. It's overall length of 17′ 2″ does not provide much space space and you'd be hard pressed to swim laps in it. Instead, the Crystal Springs sports two opposing sets of benches (located on opposite sites). After you enter it's cool (or warm) waters from it's shallow end steps, you've got plenty of seating room.
The Crystal Springs is an excellent pool shape for entertaining guest and enjoying a peaceful evening in it's soothing waters. You'll be able to kick back, relax and enjoy the waters with a high level of safety due to it's modest depth of only 5′.
Less than 1 Week for Installation
Staying within our standard operating procedures, we're on track to complete this installation in less than 14 days. In fact, this particular pool will be completed in less than seven. We keep our clients at the forefront of our operating procedures to ensure that we execute our installations within the promised time frames.
We pride ourselves on our rapid installation times and it's what sets us apart from the competition. At Fiberglass Pool Guyz, we have the industry connections and the right teams in place to make the magic happen. Our sub-contractors are the best in the industry and have installed hundreds of pools over our tie in the industry.
When you hire Fiberglass Pool Guyz to install your new outdoor oasis, you are hiring a team that knows how to get the job done right, the first time!
The Crystal Springs – Pool Specs
Width: 11′ 11″
Length: 17′ 2″
Depth: 5′
Surface Area: 119 SQFT
Volume: 3,900 Gallons
Crystal Springs - Dig Specs

Crystal Springs - Pool Details

Stay Up to Date – New Pool Shapes