The Crystal Springs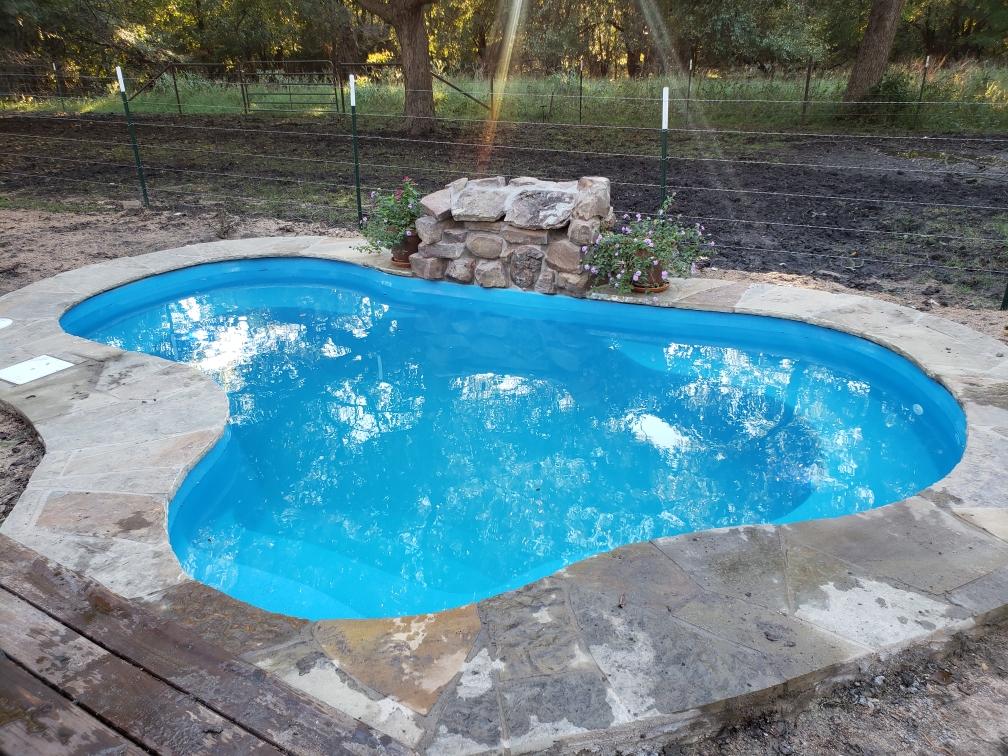 Delivery & Installation in Celina TX
We are hard at work this week putting the finishing touches on a new fiberglass pool installation – in Celina TX. This is the completion of the same installation that we recently mentioned on our blog. For more information on on this beautiful recent installation, click here!
Things got a little busy on our delivery date, because we actually had two fiberglass pools on the back of our San Juan Pools delivery truck! These pools are manufactured out of the same shipping yard and therefore, can be stacked and delivered on the same delivery truck. It's a unique aspect of a fiberglass pool that no other swimming pool type can mimic. It also means that we have the capability of working on multiple swimming pool installations at a time.
For our new customers, that means there is no slowing down Fiberglass Pool Guyz! Once we get going on a job, we're ready to keep going and provide as many new clients with stunning fiberglass swimming pools as possible! It's part of the turf and we're filling the space with fun and passion.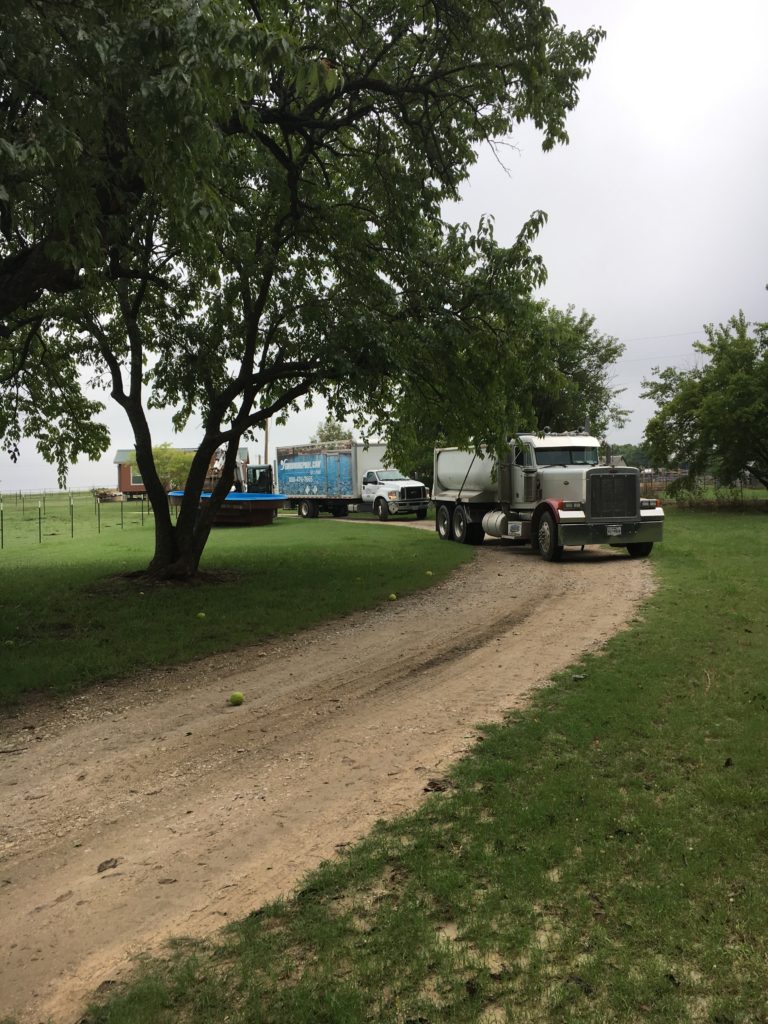 Our Convoy of Delivery Vehicles
You know the feeling you get when you've placed that special order and are waiting all day for the UPS truck to arrive. Excitement fills your gut as you wait for that special delivery. Well, we sort of the get the same feeling when our fiberglass pools are getting delivered. Both us and our clients are very excited to see their backyard go from a green lawn to a natural outdoor oasis. It's a tremendous transformation and you can't really believe how fast it all takes place until you see it yourself.
The above image is a perfect example that showcases our coordination abilities with local suppliers and vendors. In this example, we are receiving the shipment of:
Crystal Springs fiberglass pool – from San Juan Pools (manufacturer)
Venetial fiberglass pool – more on that installation next week
Pool Equipment – from local supplier
Sand – for back fill material (crucial step)
Have you ever watched an aircraft carrier when their teams are buzzing about as aircraft takeoff and land? If you're like us and tune into the Discovery Channel occasionally, then you've seen a similar snapshot of how a fiberglass pool gets installed. To the outsider looking in, it's a complicated tapestry of movement and communication. For the guys who perform this type of work everyday, it's business as usual. Transforming backyards is the result of our hard labor!
How Do We Offload Our Pools?
It's pretty impressive seeing such a large swimming pool delivered on the back of a semi-truck, isn't it? But how do we get the shell off of the truck and into the ground?
These fiberglass pool shells weigh several thousand pounds so it takes the right type of machinery and know-how. In the example above, you can see our crews offloading this Crystal Springs using our large rig excavator. This piece of equipment has a 3 yard bucket capable of moving a huge amount of dirt with each scoop.
Using such a large bucket, we excavate the earth for your pool shell in a matter of hours. By going with the large piece of equipment, we can also use the same excavator to offload our pool from the delivery vehicle. It's all a matter of calculations and understanding what piece of equipment can get the job done safely and efficiently.
When Do We Bring Out The Crane?
Of course, there are some special cases where you will see our teams at a job site with a large boom crane. In those special circumstances, there is limited space between houses and we are required to literally lift the pool over the house – right into the backyard. Those are some pretty unique circumstances but we've got the proper licensing to handle that type of operation. In most cases, however, our excavator will do the trick.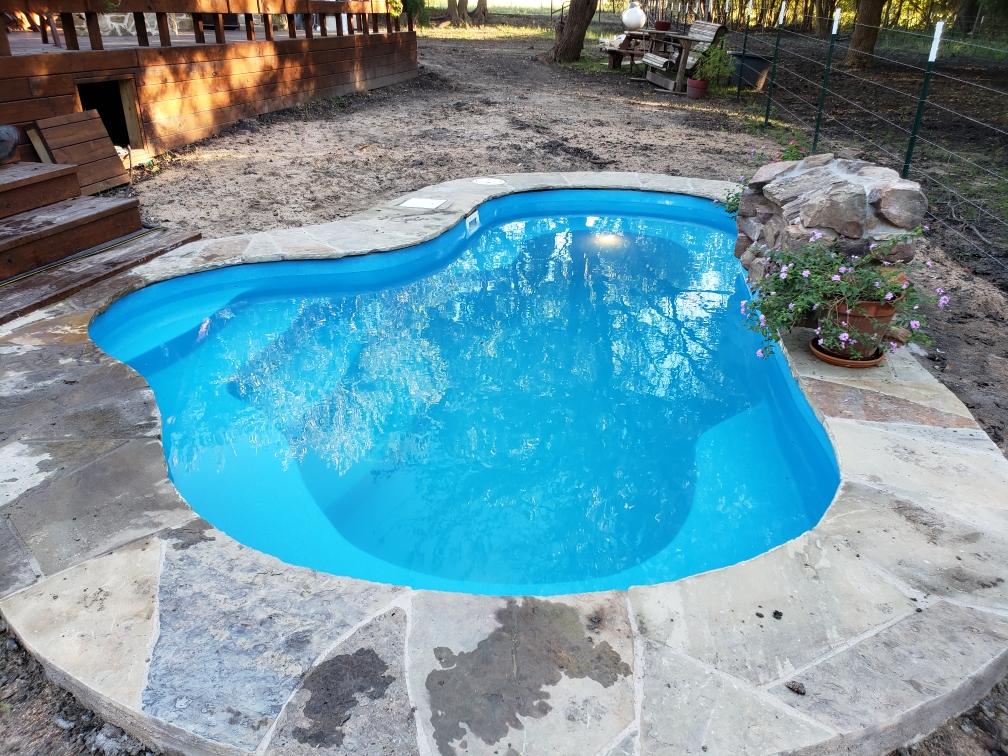 From Start to Finish
It's hard to believe that this backyard was once a patch of dirt and grass. You would think that this fiberglass pool had always been around because it blends in so naturally to its surroundings. This is the fun part of what we do. We're capable of taking any backyard and turning a plain environment into your very own outdoor oasis! Helping families to recognize their dream of pool ownership, and for it to become a joy of their home is part of our company mission. It's why we do what we do!
If you'd like a free in-home estimate and visit with our owner, Jim Lugari, please fill out our contact form! We'd love to schedule an appointment to meet with you and provide you with some important information along the way. You'll be provided with information over our 100+ Pool & Spa shapes (adding new articles weekly)! In the meantime, feel free to also check out our San Juan Pools catalog! We're always here if you have any questions!
Check Out Our Other Installations & Pool Shapes