New Fiberglass Pool Installation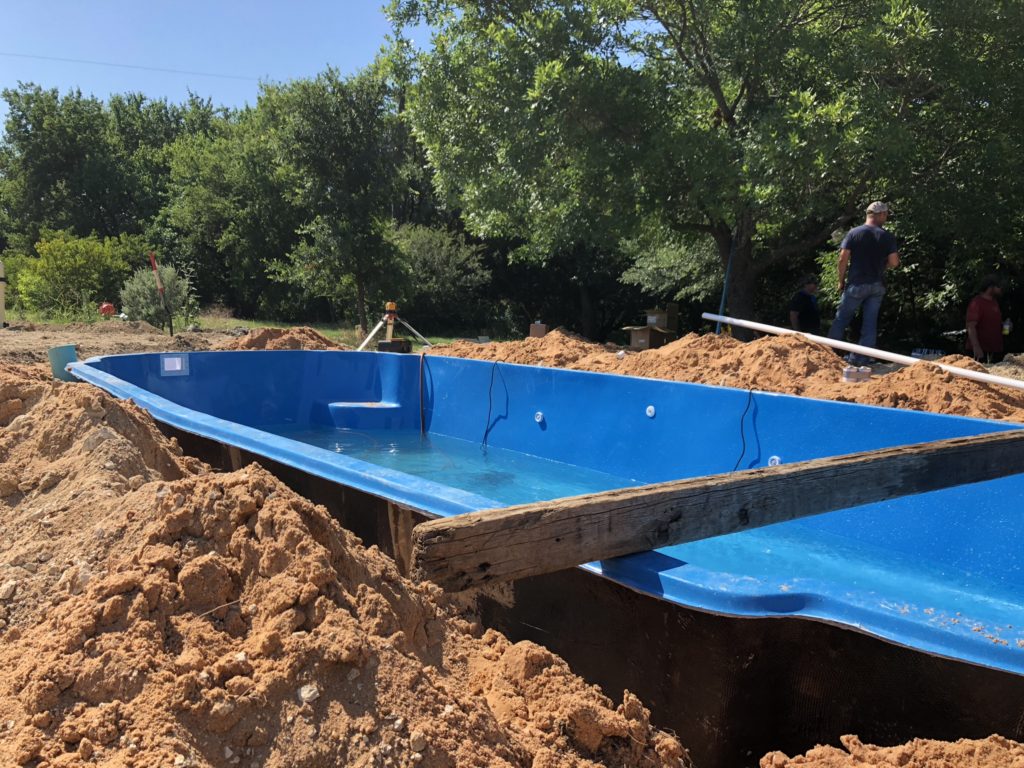 The Hawaiian in Blue Lagoon Color
Fiberglass Pool Guyz is hard at work again. This time we are installing a brand new Hawaiian fiberglass swimming pool in McKinney TX! This image was taken on Friday June 22 – the same day that our pool arrived. You can see our crew and the leveling tool in the background taking a break in this steamy Texas summer heat!
As you can see from the image above, our installations are very quick and follow a routine set of steps:
Excavate our hole (using a specific "Dig Sheet" depicting our depths every couple of feet)
Dig our trench lines (for plumbing & electrical lines)
Set our pool & ensure it is properly level
Slowly back fill (outside of our shell) while filling up with water (inside of our shell)
Believe it or not, all of these activities happen the same day that our pools shell arrives. Our crews arrive early in the morning to excavate our hole using the "Dig Specs" provided by our manufacturer. We actually include the Dig Specs for every swimming pool on the bottom of every pool article. This is a great tool that provides both our installers and customers with relevant information for the depth and dimensions of our fiberglass swimming pools.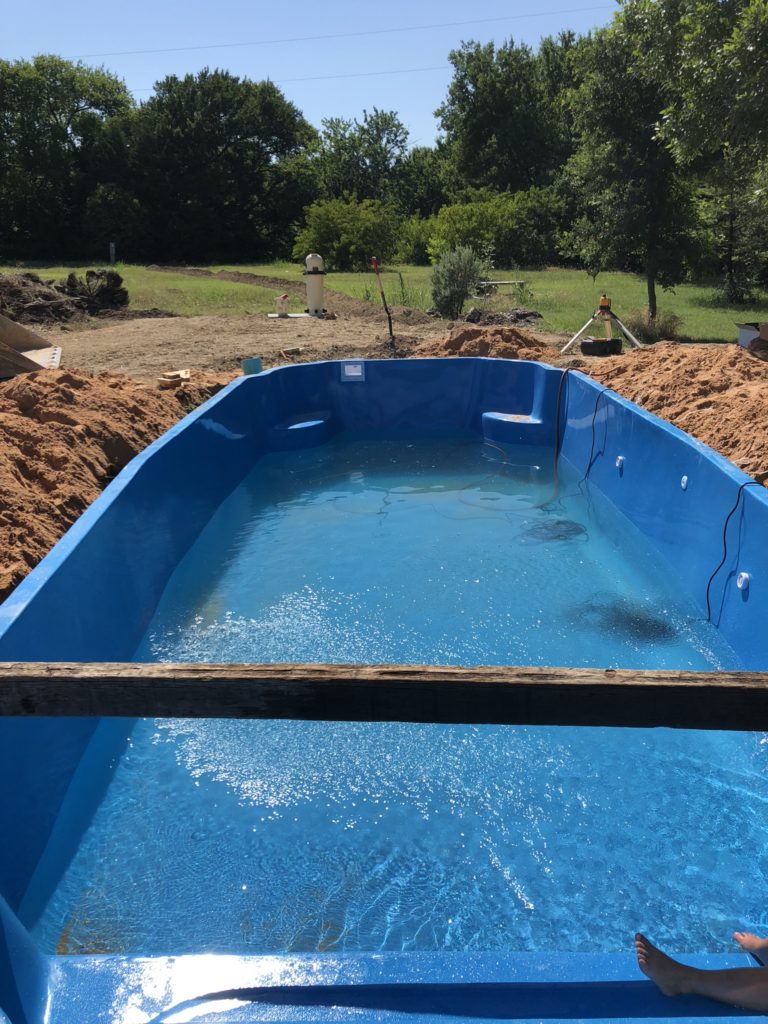 Installed in McKinney TX
You heard us right, this swimming pool is installed in McKinney TX (traditionally gunite territory). However, we are taking the Dallas Fort Worth metroplex by storm. Home owners are beginning to realize that fiberglass pools are an amazing alternative to the standard gunite (concrete) swimming pools that everyone traditionally grew up with.
Fiberglass shells are very rugged swimming pools designs to stand up against the harshest conditions. They provide all of our customers with the following benefits:
UV resistant gel coating
17 times stronger than concrete (flexural strength)
Algae resistant
With talking points like these, it's hard to imagine how a gunite swimming pool could possible outweigh the benefits of a fiberglass shell. When you match the quality of our fiberglass shells and their inherent strengths to our rapid installation times – we can beat the deal of a gunite pool easily.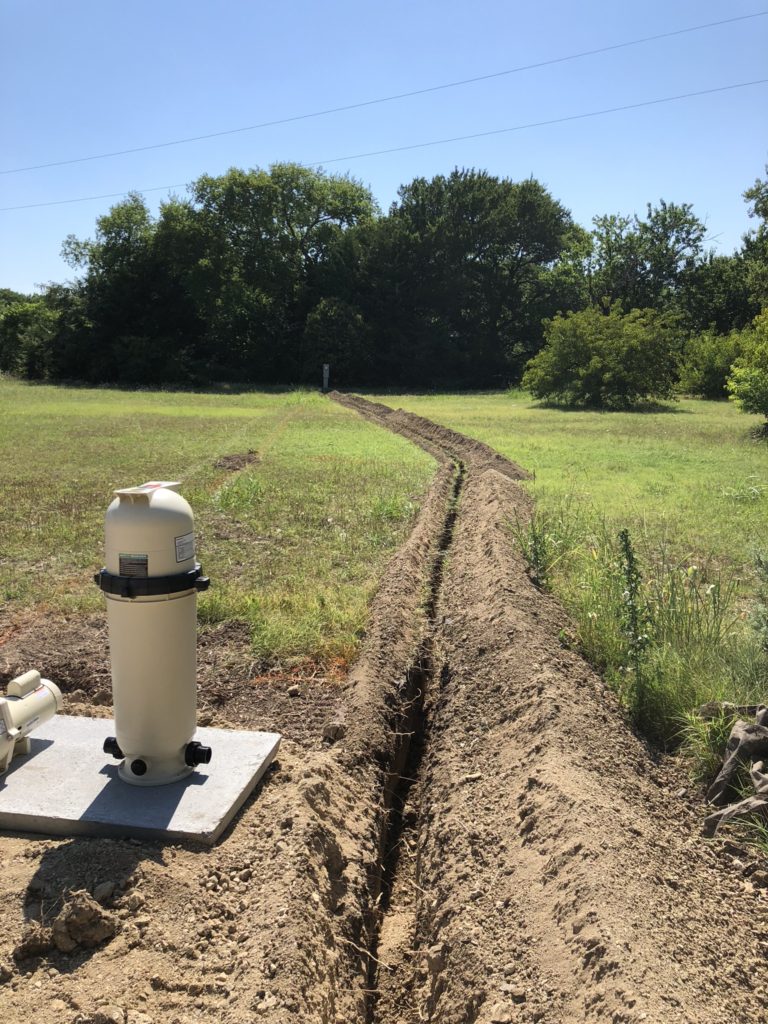 On Target to Complete Install Before July 4th
As we stated above, this Hawaiian fiberglass pool will be completed with its installation prior to July 4th!
If you and your family are looking to purchase a fiberglass swimming pool prior to the end of the summer, then you've come to the right place! We have the ability to purchase and install a fiberglass shell in as little as four weeks!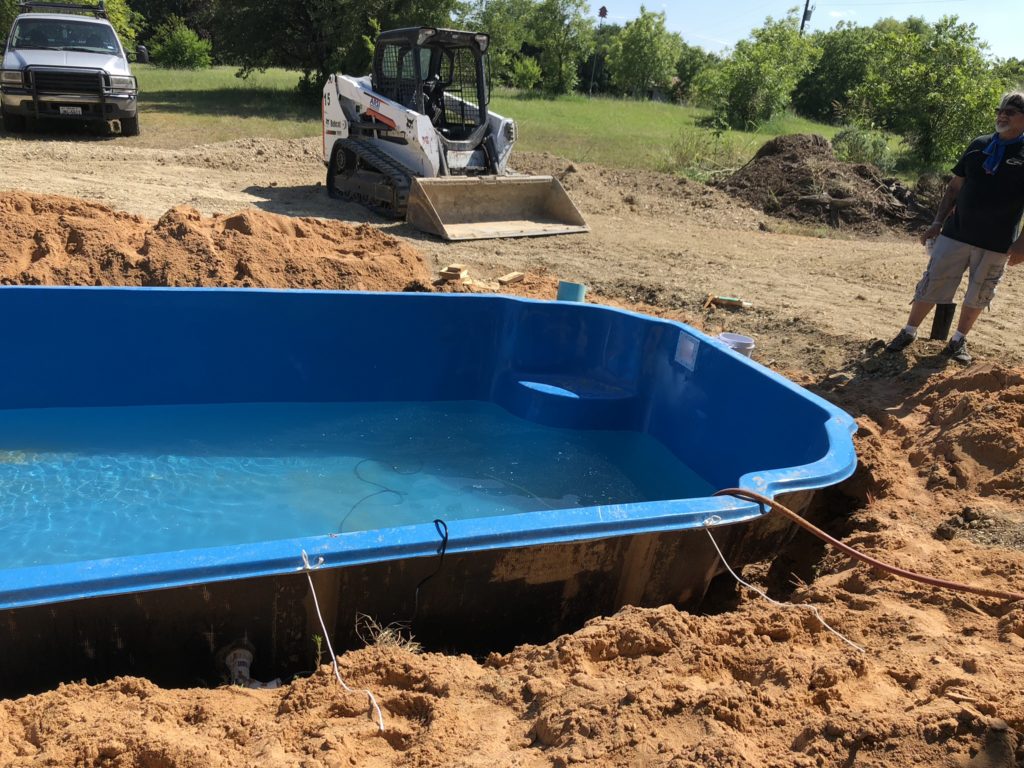 Work With Quickly & With Your Schedule
You may be able to tell by now, we take our timelines very seriously here at Fiberglass Pool Guyz! We completed this McKinney Job Installation is just 7 days – from breaking ground to final fill up! That's astounding in the the swimming pool industry. Nobody else is capable of keeping up with our speed and logistical efficiency.
If you're interested in discussing the purchase of a fiberglass pool with us, we invite you to give us a call so we can discuss your options with you. We even offer a free pre-financing tool that helps you identify your budget before we ever set foot in your backyard. Once we know what you'd like to spend, we can begin our plans of putting together the perfect swimming pool package for you and your home!
Trust The Fiberglass Pool Guyz
Lastly, if you've been browsing the swimming pool industry for little bit of time and have questions on who you can turn to your for home investment – you've found the best guys available!
We are passionate about the fiberglass pools that we sell and we love this industry for the people and fun that we get to offer. Providing fun to our customers is the reason that we do what we do everyday! It's our pleasure to provide you with the very best information and finest quality swimming pools on the market!
Give us a call and let us begin the journey of transforming your backyard into your perfect outdoor oasis!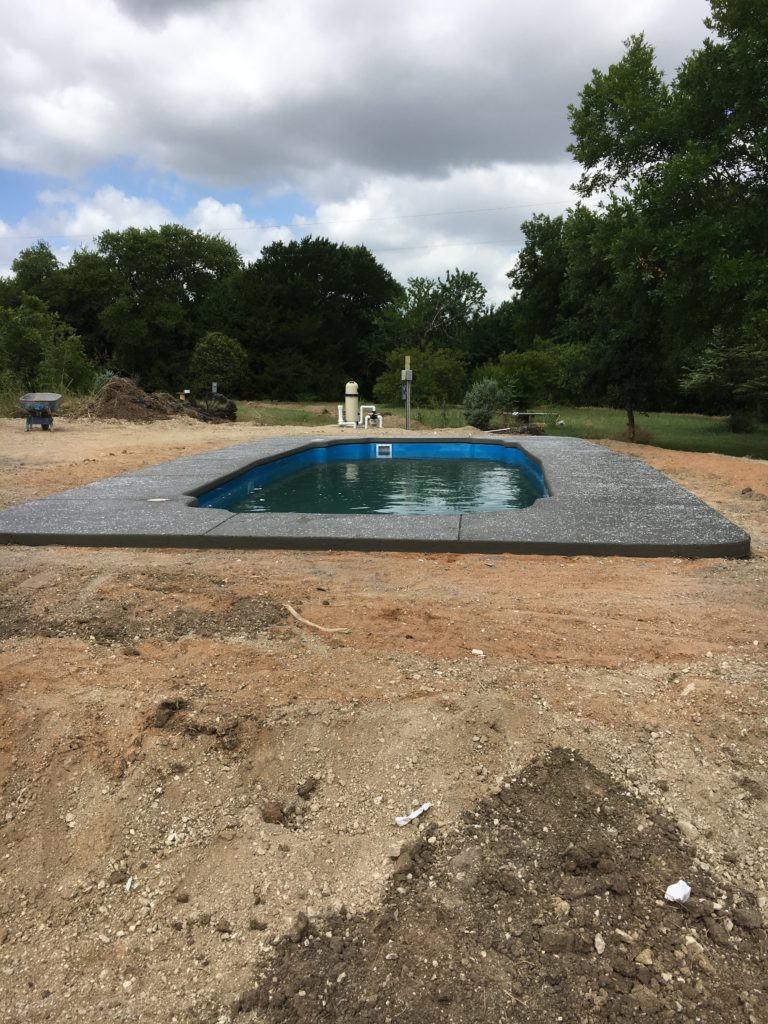 The Hawaiian Pool Specs
Width: 12′ 10″
Length: 29′
Depth: 6′
Surface Area: 295 SQFT
Volume: 10,000 Gallons
Hawaiian - Pool Details

Hawaiian - Dig Specs

Check Out Our Other Pool Articles!