In Vegas, anything can happen! The same goes for our beautiful Vegas fiberglass pool model! This swimming pool offers a compact design. Outfitted with a maximum depth of 5'1″ and a total gallon size of 11,300 gallons – it's design for hours of play with minimum maintenance costs.
Don't Stop The Fun
Why is it that we always wait for a vacation to say that we are going to have fun and enjoy time with our families? It's the American Way, we guess. We've conditioned ourselves to spend hours upon hours burning the midnight oil to make a living for our families. Yet, what we often find is that we spend hours at the office with little work-life balance.
Well that stops, here! The Vegas swimming pool model is a compact swimming pool design. It's easy to fit in any backyard and offers an overall depth of 5′ 1″. It's perfect for families with mixed ages to steal some time away from our busy lifestyles to enjoy some quality time together!
This swimming pool will be taking the Dallas Fort Worth market by storm and we are leading the charge!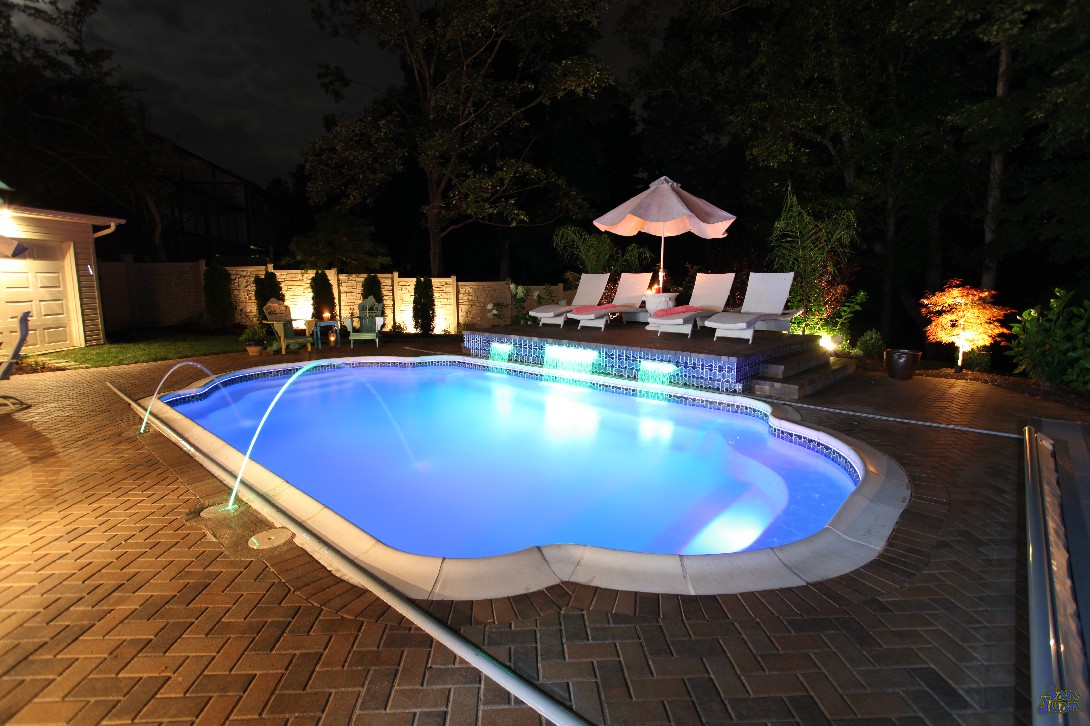 Inspiration For This Pool Design
We absolutely love The Vegas swimming pool. It's compact and curvy shape is unique and perfect for any backyard. If you're wondering about fitting it in yours, go ahead and grab a tape measure! It's overall size is 27′ in length & 15′ in width.
If you're turning the old cogs and wondering about it's affordability, don't worry – we've got you covered there as well! We have access to some fantastic financing options!
Other than it's sporty shape, The Vegas pool model comes with a set of dual (opposite end) entry steps. We recommend that you outfit these steps with a functional handrail on both ends to boost the safety and aesthetic of your design.
Lastly, it's small gallon size will save you money over the long term. Trust us – 11,300 gallons is way less costly than maintaining a large gunite pool! Since you'll be saving money, why not go ahead and throw in fun and amazing water features? LED lighting, a raised waterfall, deck jets and game accessories – let's make that backyard really pop! After all, aren't we building a pool to entertain for family and friends?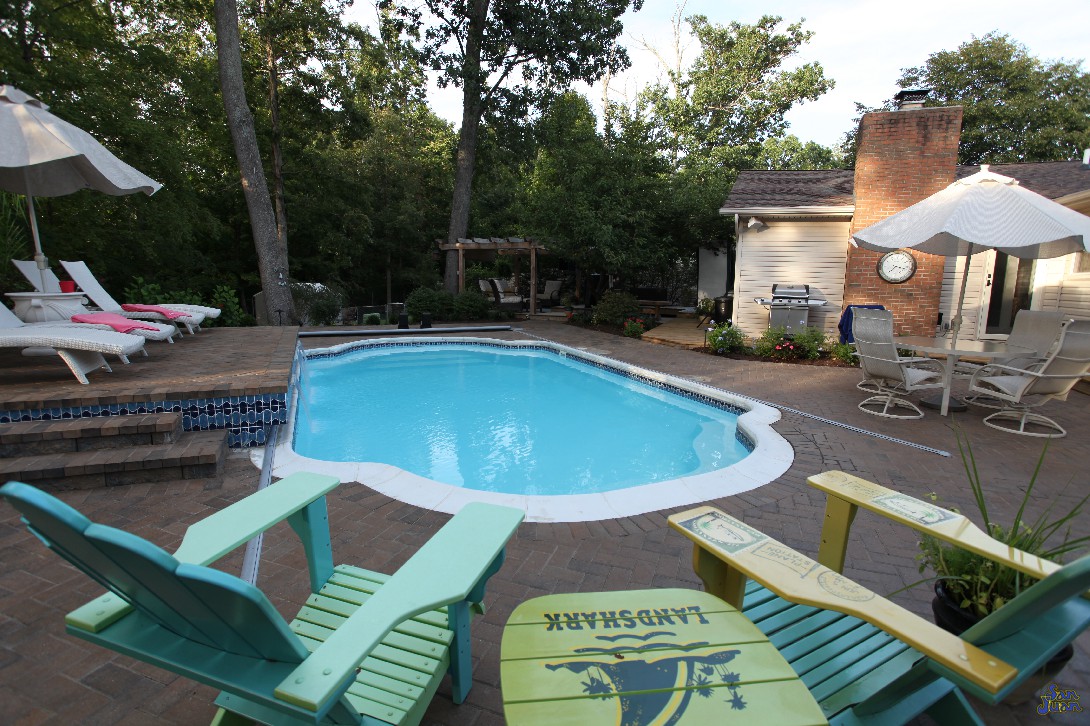 How Does This Work For Me?
If we have't convinced you thus far that this pool is right for you, then just wait – there's more! (game show host pun) We offer lots of ways to accent this swimming pool to fit the perfect design & functionality for your home and family.
At Fiberglass Pool Guyz, we pride ourselves on our craftsmanship by offering additional products for your backyard. Along with this beautiful swimming pool, we also offer: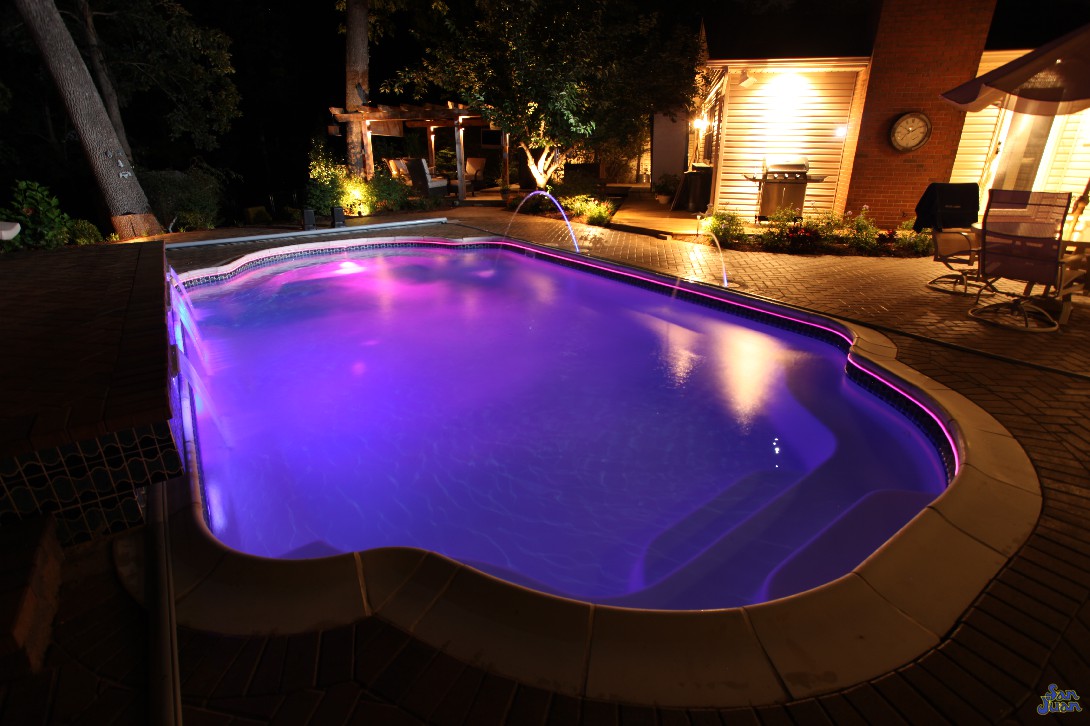 100% Custom Backyard Designs
If you've imaged some elaborate backyard designs, then we must be a perfect match! We invite you to contact us at anytime to receive a free quote on all of our services!
In fact, we such nice guys that we will send our very own Jim Lugari (our beloved owner) to your home to visit with you one-on-one. Jim loves working with all of our customers and building strong relationships. After all, this is the pool industry – your pool builder should be the guy that you are excited to call!
We work hard to instill a spirit of fun, family & friendship through our company ethos. We're sure you'll pick up this vibe and it's bound to get you excited and inspired to create the perfect backyard oasis for you and your family!
The Pool Specs
Let's recap some of the information for this swimming pool!
Width: 15′
Length: 27′
Depth: 5′ 1″
Surface Area: 355 SQFT
Volume: 11,300 Gallons
fiberglasspoolguyz.com/wp-content/uploads/2018/03/Vegas-Pool-Details.pdf" title="Vegas – Pool Details"]
Vegas Dig Specs

Get Some More Inspiration!
If you enjoyed this fun article – we invite you to read on! We've loaded our website with a plethora of in depth articles for all types of fiberglass pool models! We are constantly adding more content to our website. It's part of our mission to inform our customers of what all we have to offer – and we want to instill a spirit of trust and collaboration in what we do here everyday: creating fun!