The Niagara pool model sports a rectangular shape with a small shallow end a huge deep end! This pool is designed for a more advanced swimmer and includes a depth down to 7′ 9″! Get out those diving rings!
Designed for Play & Relaxation
When we say we have pockets full of fun fiberglass pool shapes – we mean it! We decided to pull out a more unique shape that deviates from the traditional rectangular pool design. Although the Niagara Pool is a rectangular shape, beneath the surface it's much more complicated! For those of you who are looking for a swimming pool with personality, we believe we have your winner!
This swimming pool has a narrow shallow end section with a dual set of steps for entertaining. It's a perfect place for small gatherings, sharing cocktails or catching your breath between deep end dives.
Once you deviate several feet from the shallow end wall, you find yourself wading into some serious deep waters. This pool quickly gives way to a 7′ 9″ deep end! It's a large depth that's perfect for your diving board or outdoor water slide. If you're looking for options on both, don't worry – we've got plenty of slides and diving boards for you to choose from!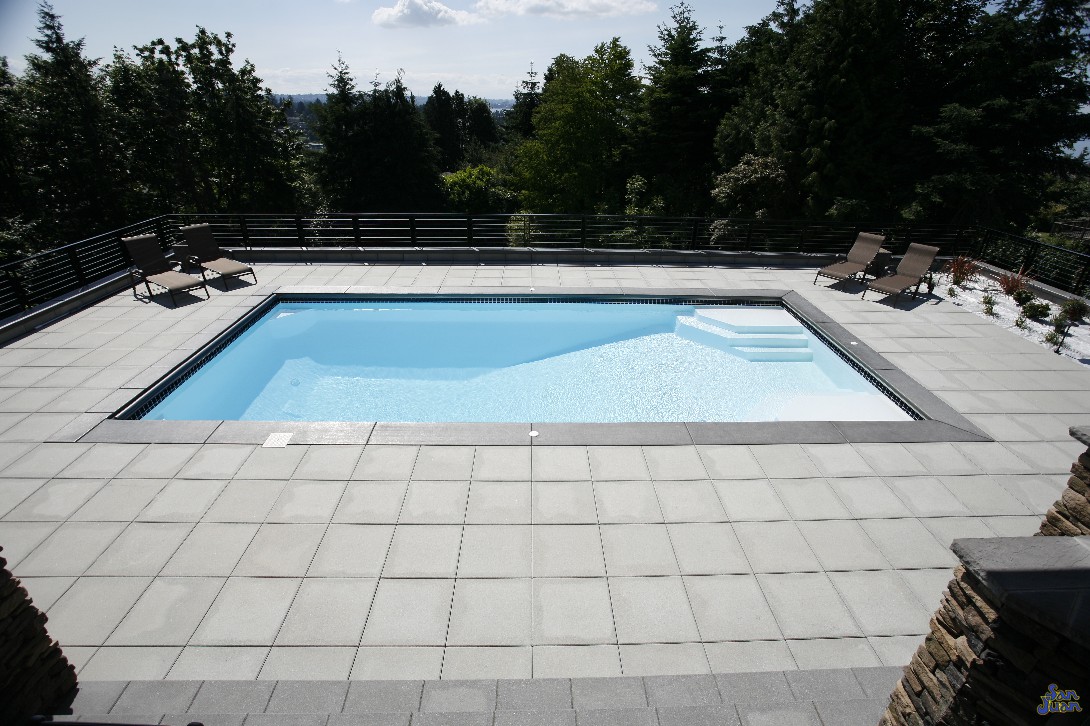 How Can We Outfit This Pool?
We're glad you asked! If you're looking for a way to structure this pool to create the unique look you crave for your backyard don't worry – we've got some design options listed below. Possible accessories for this fun and playful pool:
This is a wide range of options just for diving boards, slides and game accessories. We primarily have two very high-end vendors for these accessories which is why we include them both on here. Overall they are very similar but we like to give our customers options and access to the greatest range of information. Bon Appetite!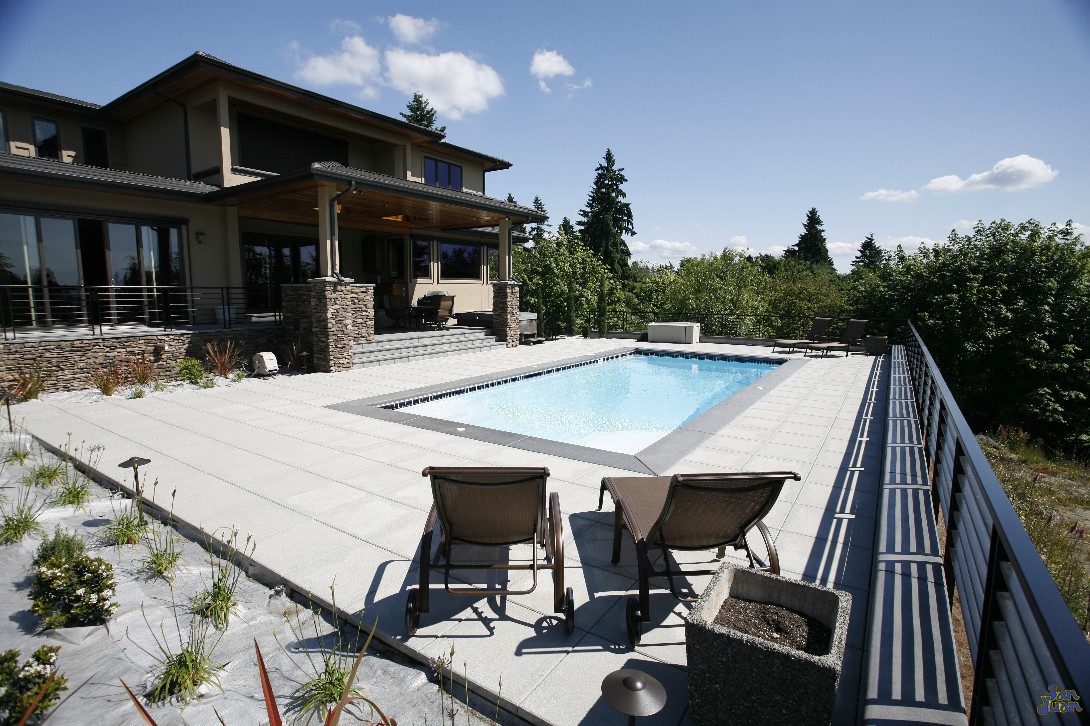 A Wide Range of Applications
We care very much for the pool designs that we have to offer. We like to believe that our fiberglass pool shells provide the highest quality, best warranty and greatest selection of shapes and sizes. Because of this we like to create articles to illustrate how these fiberglass pools can be installed.
This swimming pool is perfect for a small to medium sized family looking to entertain for large parties with old children. It's designed for advanced swimmers to jump outdoors, hop into and swim for activity and exercise. We would not recommend this swimming pool to a family with small children or anyone who may not be able to swim well on their own.
That said, we packed this swimming pool full of fun with the divers in mind. It can also be a great swimming pool for those who want to practice lap swimming or to enjoy the outdoor slide with big splash!
The Pool Specs
Width: 15′ 1″
Length: 33′
Depth: 7′ 9″
Surface Area: 485 SQFT
Volume: 17,500 Gallons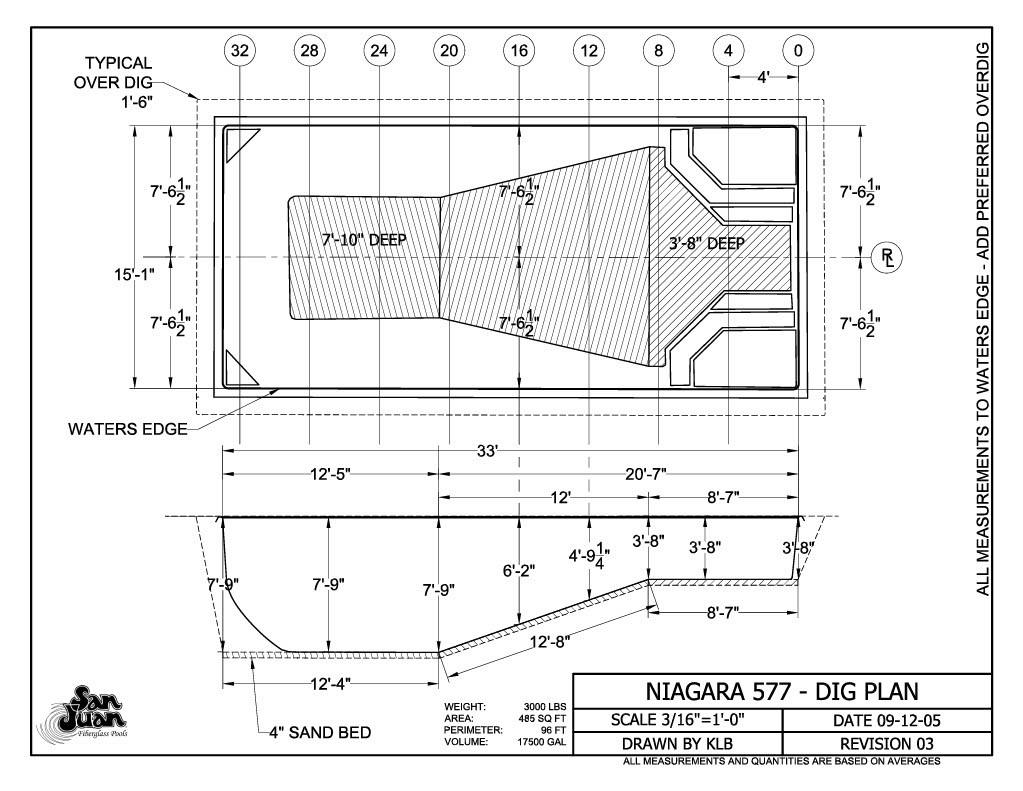 Would You Like to See More?
We love sharing our swimming pool models with anyone who is curious to read them. The pool shopping experience should be fun, interesting and educational. It's what makes us unique.
There are many more pool models that we have to offer so we invite you to read any of the following articles to brainstorm and see what is right for you and your family. As always, we invite you to give us a call if you would like some free information or resources. We are here for you and eager to get your summer moving!
Our Other Pool Models: