The Grand Manhattan is a rectangular fiberglass pool with a nearly flat bottom base. Flat Bottom bases are true known in our industry as "Sport Bottoms." The reason being – this pool is designed for playful activities such as leisure lap swimming, basketball, volleyball or even just pool floating. 
Roll Out The Red Carpet
It's here everyone! The Grand Manhattan is making it's entrance. When we say this is a great pool model we are encompassing the entire design layout. From the rectangular design (very modern and chic by the way!) to it's sport bottom base, this pool is designed for hours of play while bolstering the safety of its swimmers.
Are you currently sitting in the office, browsing through pool websites and looking to create your new summer vacation? If so, this pool is meant for you!
Your beach volleyball trips can now become your new pool volleyball. Attach a net to both sides of this pool and you've got a perfect 2 on 2 (or more) volleyball match set up. Just add in some adult beverages and let's call it adult swim!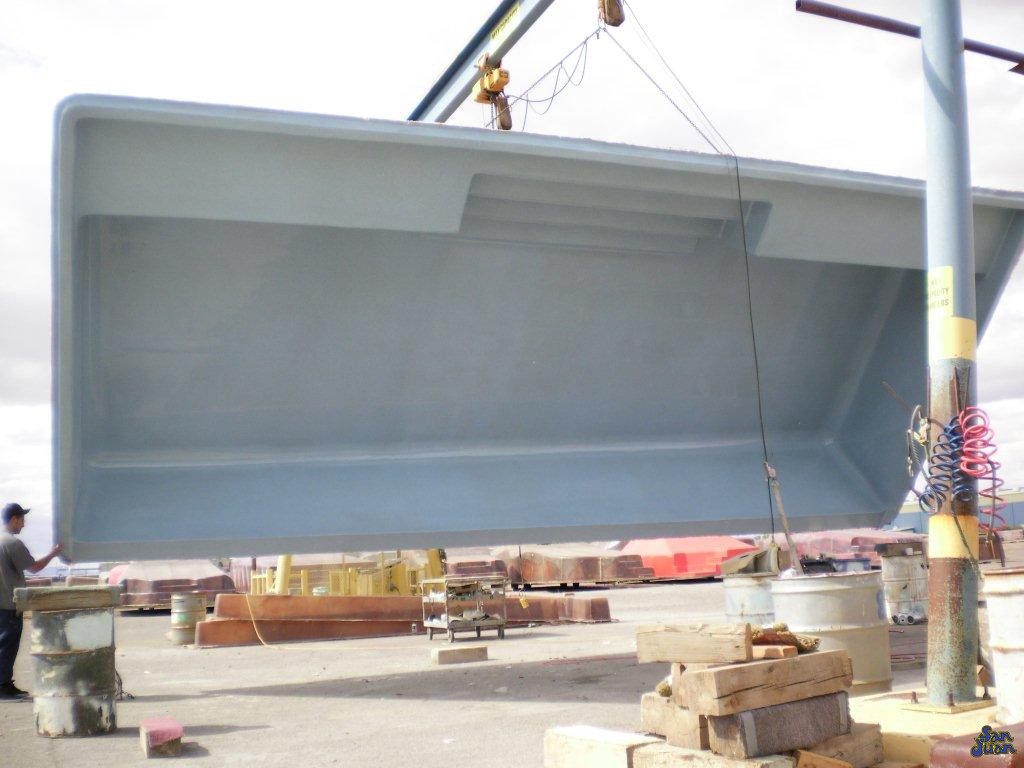 We Bring This Pool In With Style
If you've been on the swimming pool market for some time, you're aware that building a pool can take time. Not with Fiberglass Pool Guyz! Our swimming pools are installed in lightning speed.
Because our swimming pools are made in a factory under rigorously controlled conditions, our pools are manufactured before you even order them. Our average time frame from ordering to fulfillment is typically 4 weeks. This blows any gunite pool builder out of the water!
This means that in May when you are wanting to buy a pool and swim before the 4th of July – you can call us and we can make it happen.
What's truly amazing and always fun to watch is our customers' faces when they see their backyard go from "grass to pool" in as little as two days. Yes, we are that fast!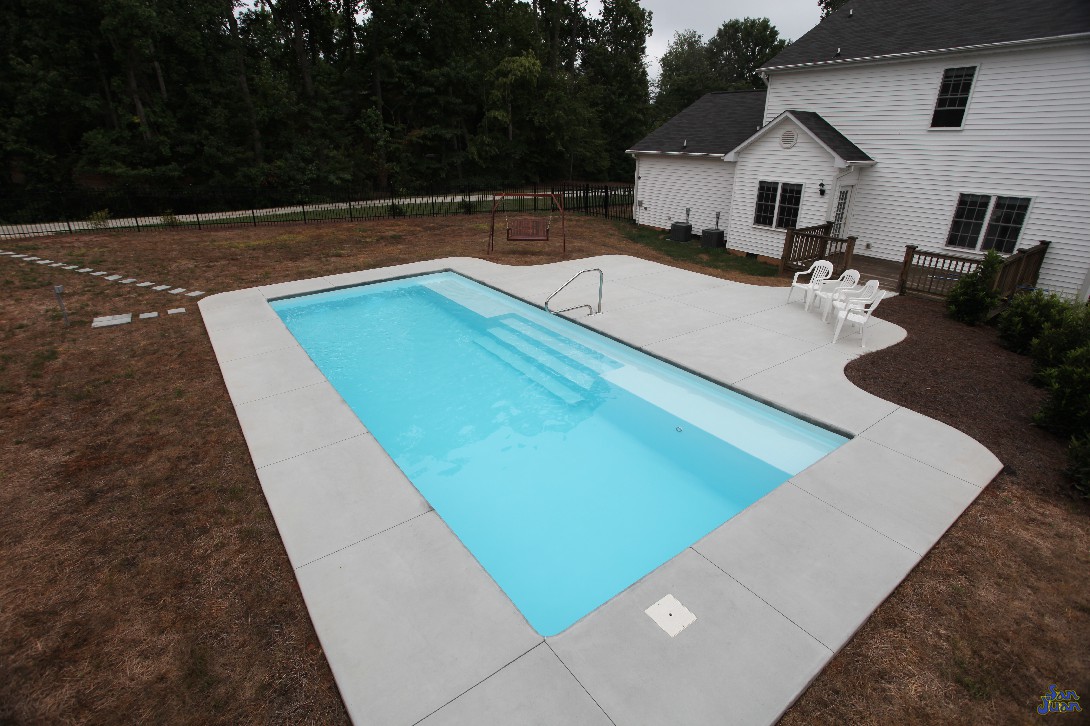 From Grass to Pool!
Once we get the confirmation from the factory that your pool is on it's way, we've got crews on the ground excavating the hole and prepping the job site for installation. The pool will arrive on day two of shipment and we will have it in the ground and filled up by the end of that day.
Of course, there is a little bit of set up time to run the plumbing, electrical and balance the chemistry. Once that's done you're ready for that neighborhood party! Your friends won't believe their eyes when they see how fast your swimming pool is installed.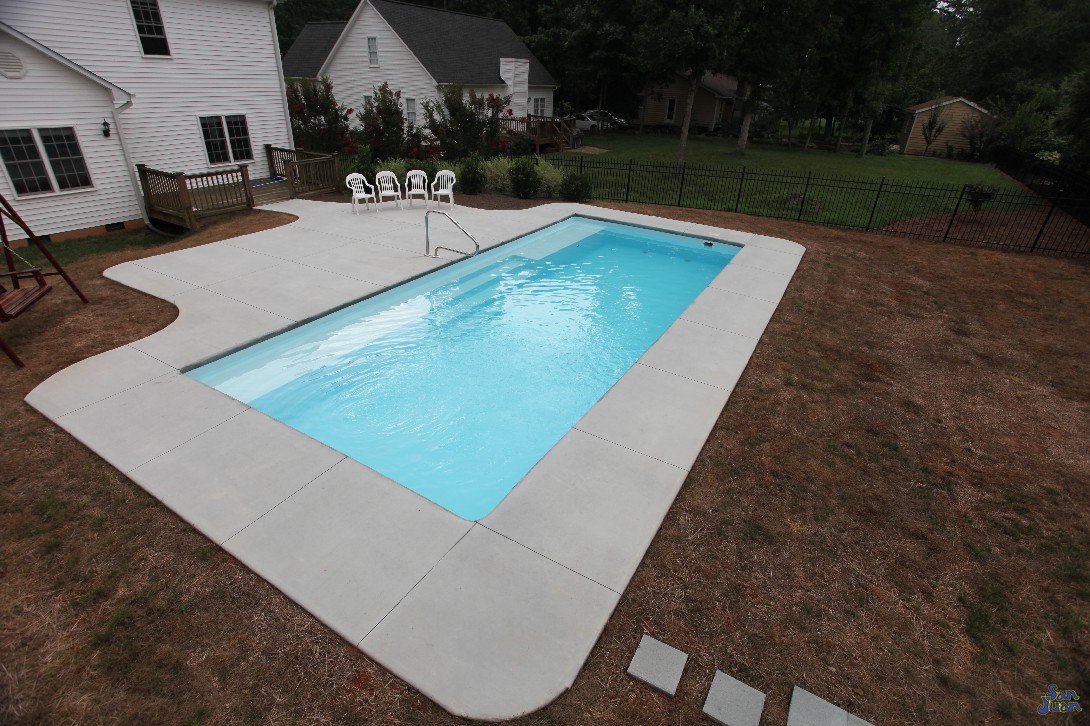 The Beautiful Designs of The Grand Manhattan
We've teased you enough with our sales pitch. Let's take a little closer look at why this swimming pool is so beneficial for you and your family!
The Grand Manhattan is a Sport Bottom pool design. That means it has a nearly flat bottom with no deep end (or hopper as we like to call it). The nearly flat bottom adds an added layer of security for parents with children. It also creates a perfect play area for family sporting events, such as: basketball or volleyball.
For those who love entertaining, the long seated bench is perfect for holding several guests who want to rest from swimming and enjoy conversation. It also serves as another open access entrance into and exit from the pool.
If you're a creative spirit, we can even throw on a Artisan Handrail (with a curved style) onto your entrance steps for added aesthetics.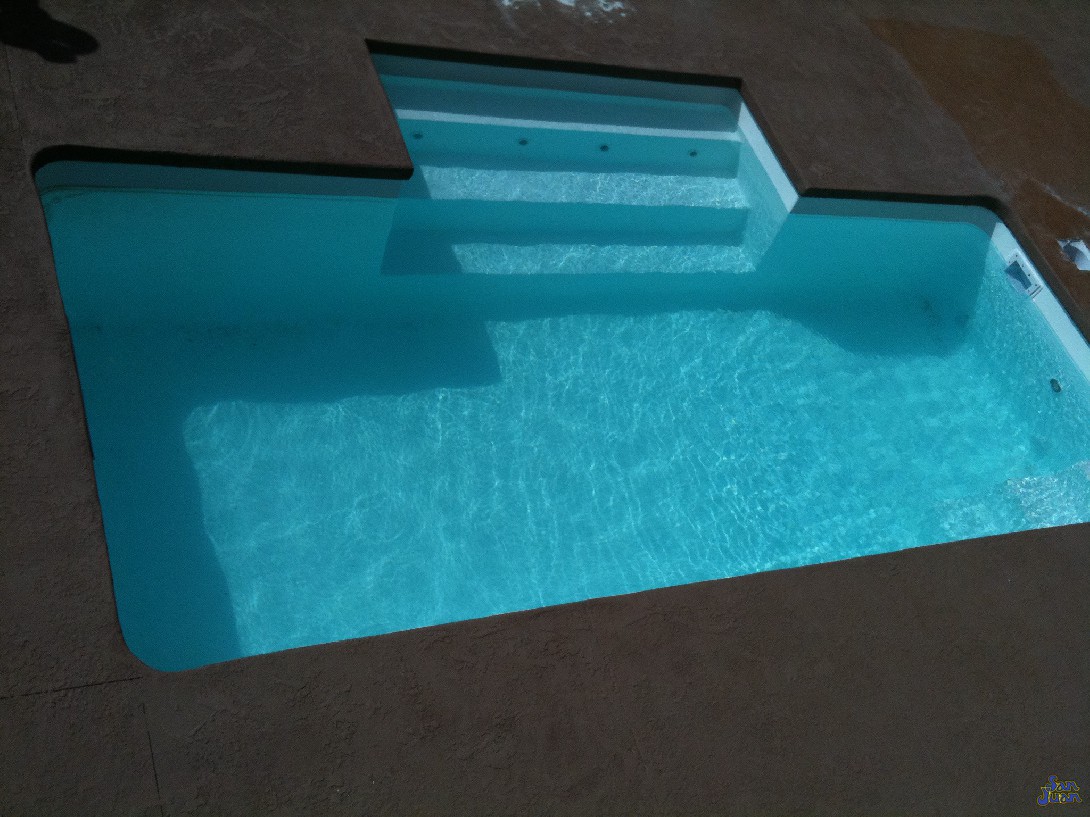 LED Lighting Options
If you're wanting some additional water features to bolster the beauty of this swimming pool, we've got them! From LED lights, to Automation, Deck Jets & Bubblers – we are your one stop shop to create a swimming pool that is both colorful and fun. LED lights can also save you a lot of money on energy costs!
You can literally turn this pool into a night time entertainment piece by throwing in some LED and Automation!
The Specs
Width: 14′ 5″
Length: 32′ 9″
Depth: 5′
Surface Area: 417 SQFT
Volume: 11,400 Gallons
Grand Manhattan-F

Our Other Amazing Pool Options
We are constantly adding new articles to our website to provide all of our wonderful customers with ideas and inspiration for their homes. We've got over 100 pool and models to choose from. Because of that, we are adding some of our favorites on a regular basis. Therefore, check in with us regularly to catch our new design options that we add every week!