The Dallas Pool Model is the perfect swimming pool for the family that loves to play and entertain. Pay attention – this is not your normal swimming pool! It's filled with all the key elements for a summer loaded with fun!
Fiberglass Pools Dallas
As we like to point out, we are a locally owned and operated Fiberglass Pool Builder in Dallas, TX. We service both Dallas and Fort Worth including all of the towns and counties that surround it. This huge swath of country is our playground and we bring the Dallas Fiberglass Pool to you create your very own playground.
Fun wordplay you say? Well, we're gonna bust a few moves and elaborate for our favorite state. As we all know, there are many wonderful places in our great country but none greater than our proud state of Texas. San Juan Pools felt the same way so they name one of their best pool designs after our blessed city of Dallas.
Big Enough to Play All Day
The Dallas pool model is carefully crafted for hours of play. Its 7′ 10.5″ Depth is perfect for diving off of a SR Smith or Inter-Fab diving board system. It's rectangular shape supports all ranges of swimming pool sides from both manufacturers. Thirdly, it's great depth is perfect for testing and polishing our long forgotten cannonballs.
It's shallow end supports a extra wide set of steps that can be complimented by a standard handrail or signature Artisan Handrail by SR Smith. We like think of this area as "kid safe" zone. It's terrific for teaching young children how to swim or sipping on martinis with friends after a long week.
Don't stay too cozy, however. The shallow end quickly gives way to to its great 7′ 10.5″ Deep End. Come on dad – now it's time to show the kids hows its truly done. Throw those 10 or 11 diving rings into that deep end and go get them!
Mom, we didn't forget about you either. Remember that big Pizza-shaped float that everybody wanted from Target? Well, that's you life raft of peace and serenity during the summer business of sports, sleep overs and watching kids. Go on, you deserve this! After all, if mamma ain't happy – nobody's happy!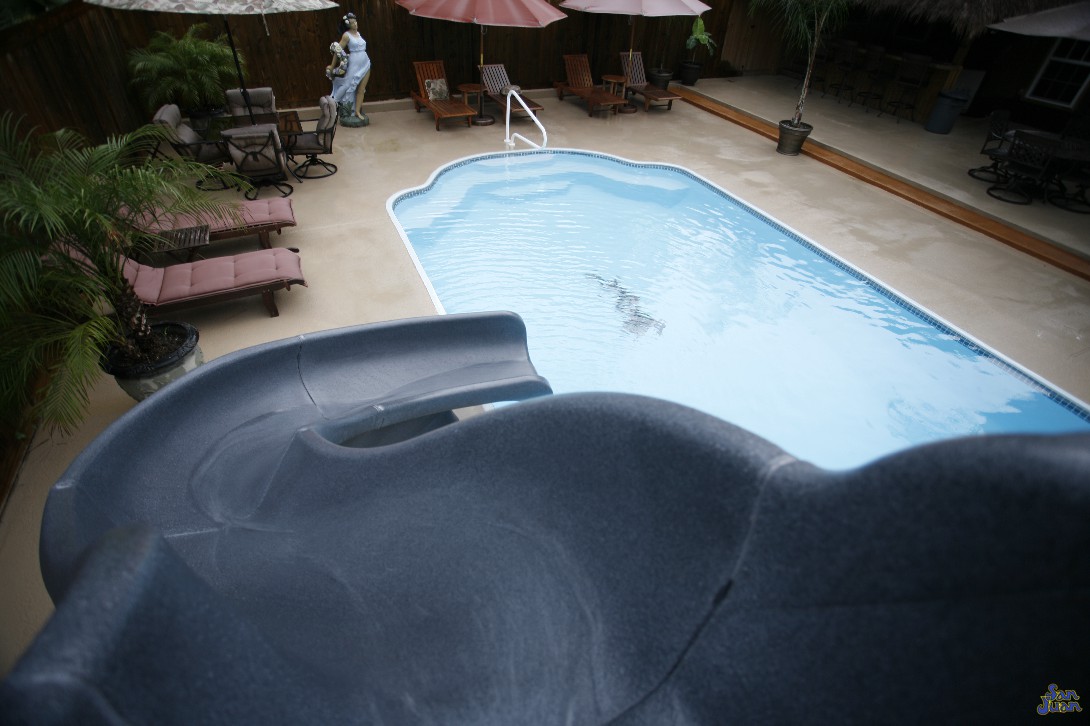 Unique Shape and Personality
We are unique and proud of it. So is the Dallas Pool Model! It's rectangular design fits the perfect mold for the afternoon volleyball game or basketball dunking contest. It also sports two deep end seating areas to rest up after that deep ring dive. And yes, aquatic lovers – it's even perfect for lap swimming. Only 50+ laps to hit that mile. I think we will settle for the martini.
The Pool Specs
Whew! That was a lot of recreational activity to cover. Let's make sure we covered all of the important stuff!
Width: 15′ 2″
Length: 41′ 5″
Depth: 7′ 10.5″
Surface Area: 590 SQFT
Volume: 20,500 Gallons
Dallas Pool Overview

Dallas Dig Specs

We're Always Here for Questions!
We know that this article's a tease and offers a lot more to be discussed. That's where we would like for you to give us a call and speak with Jim personally so he can provide you with more information! We promise to not badger you like that used car dealer. We are genuinely here with the best interest of your family in mind and want everyone to have a fun, safe and fantastic summer together!
After all, we care deeply about Saving You Money & Building Your Pool Quickly! Yes, we have articles about that as well. We're on the move!
But Wait – There's More!
If you enjoyed this article over our Dallas Fiberglass Pool, then we've got a lot more to satisfy that longing for summer. Read any of our amazing article below and let your imagine be filled. When you're ready to dig a hole and create your own oasis, you know we're here to help!